A 42-year-old man in Shenzen, China, was recently hospitalized with a stroke after the staff at a local internet cafe noticed that he hadn't got up from his seat in 50 hours.
According to CCTV footage, the unnamed man arrived at the internet cafe on the morning of March 31st and never once got up from his chair for the next 50 hours. It was only on the evening of April 2nd that the staff checked CCTV cameras and noticed that he had been there for over two days. When they checked on him, they found that he was paralyzed, unable to speak and suffering from incontinence. When he arrived at the Longhua District People's Hospital, he was barely conscious and couldn't move the limbs on the right side of his body. Doctors diagnosed him with massive cerebral infarction on the left basal ganglia and frontotemporal lobe, otherwise known as a stroke.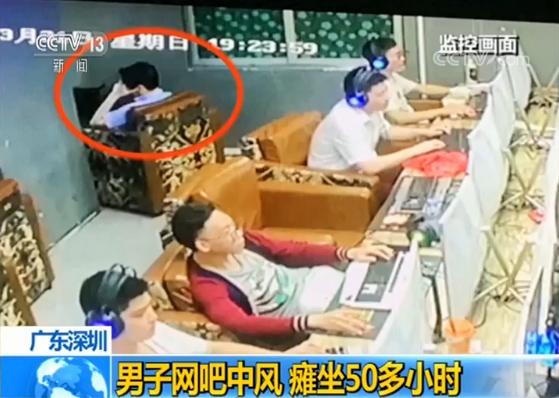 Photo: CCTV
It's unclear when the stroke occurred, but after checking the CCTV footage provided by police doctors deduced that it must have happened at least 24 hours before he was brought to the hospital. Apparently, the security camera video shows the man in exactly the same position, sitting in his chair, with his left hand resting on his temple for about 24 hours, which suggests he was left paralyzed long before anyone noticed there was something wrong with him.
The man's doctors said that if he had been brought to the hospital within 3 to 6 hours after suffering the stroke, they could have prevented much of the damage to his brain with thrombolysis or interventional surgery. He is still recovering in the hospital, but it's unclear if he will be left with permanent brain damage.
While the cause of the stroke is still undetermined, doctors at the People's Hospital Department of Neurology said that sitting down for long periods of time and not getting enough sleep considerably increase the risk of strokes even among young people.