A 59-year-old Chinese man who had experienced frequent headaches and even seizures over the last 30 years is now able to lead a pain-free life after doctors extracted a 10-cm worm from his brain.
The man, surnamed Zhang, first started experiencing excruciating headaches and seizures in 1989. He was playing cards with friends when his arms and legs started twitching for no reason. He started foaming at the mouth and lost consciousness soon after. His worried family took him to a hospital in Guangzhou where he was diagnosed with epilepsy and prescribed anti-epileptic drugs. Despite taking the drugs regularly over the last 30 years, he still suffered occasional seizures and fainting, as well as frequent headaches. It wasn't until last month that Zhang learned that his symptoms were actually caused by a worm stuck in his brain.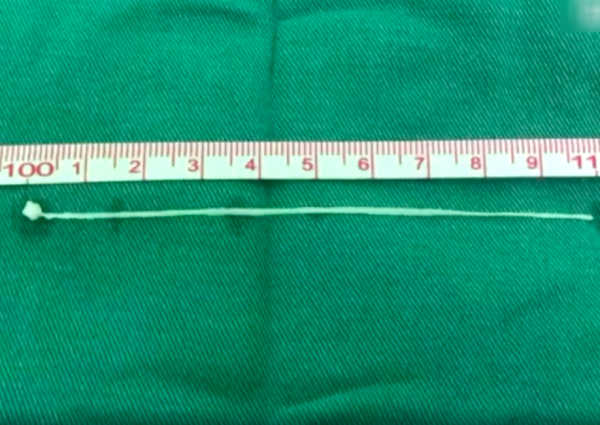 Photo: Pear Video
In 2015, Zhang's mountain village in South China's Guangdong Province was engulfed by flames, and he was in the midst of fighting the fire with the other villagers when he suffered a terrible seizure. Up to that point, Zhang had considered the headaches and occasional seizures manageable and hadn't sought medical help, but after the fire, his problems intensified to the point where he experienced seizures every month and just couldn't lead a normal life.
Desperate to make the pain and seizures stop, Zhang visited several doctors and hospitals only to receive the same answer – he suffered from epilepsy. Luckily for him, doctors at a hospital in Guangzhou performed MRI scans of his skull and found bizarre lesions in the man's right frontal lobe. Blood tests also indicated the presence of parasites in the body, and it wasn't long before a 10 cm worm was discovered in his brain.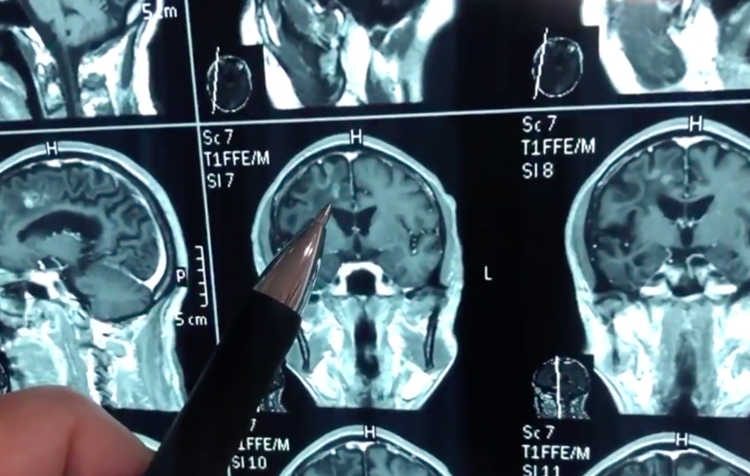 Photo: Pear Video
Zhang was scheduled for emergency surgery, and neurosurgeons at Guangdong's 999 Brain Hospital performed a right frontal lobe resection on Zhang and successfully removed a 10-cm-long parasitic worm from his brain.
Yan Xueqiang, chief doctor of the neurosurgery department, told Global Times that drinking fresh river water or eating undercooked critters like frogs or snakes can cause parasitic infections. Zhang, who hails from a mountain village, admitted that drinking river water and eating frogs was common practice in his community.
Zhang's case was recently covered in a short video report by Pear Video. Unfortunately, it didn't specify how the worm was able to survive in the man's brain for so long. It's hard to believe that it had been alive in his brain for 30 years. On the other hand, had it died at some point it would have probably dissolved and been eliminated by the man's body.