Mr. Methane is a world-renowned entertainer who, as the name suggests, has a very special talent when it comes to passing wind.
Of all superpowers one could have, farting at will probably sits near the bottom of everyone's list, and yet one of the few people known to be able to control their flatulence has managed to build a career around this ability. Paul Oldfield, aka 'Mr. Methane', discovered his unusual talent for farting in his teenage years, and eventually managed to use it as a way to make living, traveling the world and showcasing his somewhat repulsive ability to the world. The Macclesfield-born Englishman currently holds the record for most farts released in one minute, but is also known for performing popular songs by farting, and various other revolting tricks.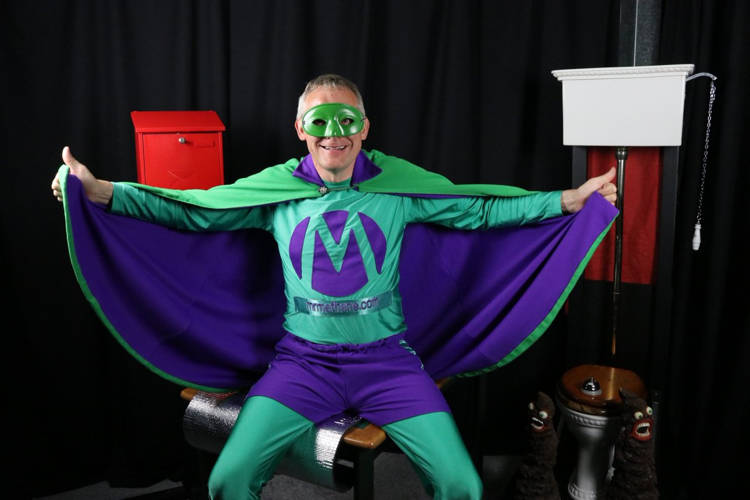 Photo: Mr. Methane/Twitter
Paul Oldfield discovered his superpower as a teenager while doing some yoga exercises with his sister. While attempting the lotus position, he realized that he could inhale and exhale through both ends of his body. Excited about his newly-discovered talent, the next day Paul let loose twenty rapid-fire farts in under a minute for a group of his friends.
But the farting superman didn't become Mr. Methane until later on in his life. He originally trained to become a train conductor, and sometimes entertained his colleagues with his farting skills, but eventually decided there was more to life than waking up at 3 in the morning to drive a train, and went into the entertainment business.
In the late 1980s, Mr. Methane started performing as an opening act for a local music band, and subsequently traveled to New York, where he both impressed and horrified show hosts like Howard Stern with his farting ability. He has produced musical parodies of famous songs, including Phil Collins' "In The Air Tonight", and has made appearances on show's like Britain's Got Talent, and Germany's Das Supertalent.
Dr Peter Whorwell, a renowned bowel specialist from Withington hospital in Manchester, by raising the diaphragm, Mr. Methane is able to suck air into the colon through an open sphincter, then close the sphincter before discharging the air. By moving the buttock cheeks, the entertainer has learned to alter the tone and pitch of his farts, allowing him to perform his unusual musical repertoire.
Mr. Methane's story is similar to that of Le Pétomane (literally, the fart maniac), a 19th-century French entertainer who learned that he was able to suck air through his sphincter while swimming and then used this ability to build a career for himself in Paris.
In 2018, Mr. Methane contacted Guinness Records and asked to have his attempt at releasing the most farts in one minute be acknowledged. He aimed for 50, but reportedly managed a whopping 86 farts. This wasn't his first attempt at getting his name into the world's most famous record book. He had contacted them in 1990 as well, but back then his talent wasn't something Guinness wanted to be associated with their brand.
"Hopefully I'll get into the book this time as they are a lot more liberal. But there's room for improvement, maybe I could do 100 in a minute," the super-farter said.