Hosts are considered the modern version of geishas in Japan. They are charming women who engage in a carefully choreographed performance designed to make clients feel like the most important person on Earth. But in certain clubs around Tokyo's Kabuchiko district, the tables have turned; here it's male hosts who cater to the needs of female clients, and there's no one better at it than Roland, the so-called emperor of Japan's male host industry.
Like their female counterparts, male hosts work in specialized host clubs in Tokyo's red lights district and have a very specific goal – to entertain their clients and encourage them to spend as much as possible on drinks. That's how they earn a living and it's also how they are ranked. Some clubs actually have posters of their male hosts displayed outside based on how much they managed to convince clients to pay the previous month. This usually involves a lot of drinking on their part as well, but Roland, the 25-year-old head manager of the Platina club and the hottest male host in the business, is a rare exception. He gets clients to spend huge amount of money without having to get drunk himself.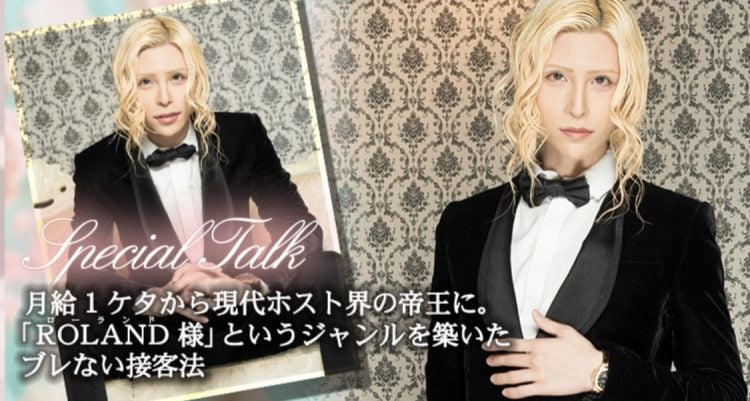 Photo: Roland Official
Roland got into the male host business when he was 18-years-old. He had enrolled in a prestigious Tokyo university, but dropped out after just one week. He just didn't see himself working in a corporation for a 200,000 yen salary until he finally retired. He wanted something more, so he just quit school and became a male geisha. Having played football for most of his life, he had the athletic body required to be a successful host, but like all beginners, he had to start off small, at a little host club in Kabuchiko.
View this post on Instagram
Roland claims he had kind of a rough start, finding it hard to get clients to spend any money during his first year at Zebra club. But he didn't give up, instead allowing himself to adjust in the industry, and it paid off in the end. Today, Roland manages one of the hottest male host clubs in Kabuchiko district and holds the records for most money generated in a single day, per month and per year.
View this post on Instagram
Birthdays are some of the biggest celebrations at male host clubs, but not the clients' birthdays, the hosts'. Women spend huge amounts of money on expensive champagne and cognac for the birthday boy, sometimes served in impressive glass towers. Sums spent on such occasions sometimes reach into the millions of yen, but Roland is the only one to reach the 10 million yen ($89,000) mark, and he claims he only did it in three hours, on his birthday, last year.
View this post on Instagram
Roland also holds the record for getting patrons to spend the most money in a single month, a whopping 42 million yen ($375,000) and he is credited for doubling the annual turnover of Platina club ever since he took over as manager. As the success and reputation of a male host is measured exclusively on how much clients spend on them, it's no surprise that Roland is often referred to as the emperor of male hosting. There's just no one like him, and he knows it. In fact, one of his most famous quotes is "There are two types of men in the world: me and the rest".
View this post on Instagram
Male hosts must be charming, attentive, very good listeners, and last but not least, attractive. They must look and act like the perfect boyfriends, at least for as long as their clients keeps paying for drinks, and while Roland is definitely an expert in the art of conversation and seduction, his looks have played a big role in his success as well. He spends hours in the gym every day to keep his body in perfect shape, but admits to paying around 10 million yen ($89,000) on cosmetic procedures in the last few years, and around 200,000 yen ($1,800) on touch-ups every month.
View this post on Instagram
Roland makes no secret of the fact that cosmetic enhancements like Botox injections, nasal reshaping, double eyelid surgery, and veneers have helped him greatly. He once said that after getting all this work done, his income at the host club more than doubled.
As I mentioned before, Roland is famous for being able to get clients to spend insane amounts of money without having to get himself drunk, while other male hosts sometimes have to make themselves throw up after drinking too much, to prevent the alcohol from getting into their bloodstream. This way they can keep drinking and generating money.
But it's not that Roland doesn't drink at all, he doesn't drink what he sees as "cheap" liquor, or liquor of the working class. Instead, he only enjoys the finest drinks money can buy, and even when drinking those, he never goes too far. He used to drink a lot in the past, like most other male hosts, but today he takes pride in being able to entertain guests and generate revenue without having to get himself drunk in the process.
Roland allegedly has the highest salary of all Japanese male hosts, drives several luxury cars, like Porsche and Mercedez Benz, and only wears the finest clothes. He doesn't own a home though, and has lived in hotels for the past two years. It's not that he can't afford a house, he just finds hotels a lot more convenient for his lifestyle.
At just 26, Roland is at the top of the male host industry. He has legions of fans all over Japan, many of them eager to shower him with money, he constantly makes appearances on TV, and has his own ongoing series on Host-TV, a YouTube channel documenting the male host world. He runs one of the most successful male host clubs in Tokyo and is regarded as the best in the business. I guess the title of emperor isn't completely wasted on him.
Sources: Bug-ch, Maison de Beaute, Naver.