The Metaura Pro claims to be the world's first wearable air-conditioning device capable of constantly blowing cold air to keep the wearer cool.
Conventional wearable cooling systems only circulate ambient air, and thus don't do a very good job of cooling people down. The Metaura Pro, on the other hand, allegedly relies on a portable cooling solution to produce genuinely cold air that is 7 degrees Fahrenheit cooler than that of the ambient, in fan mode, and up to 18 degrees Fahrenheit cooler than ambient air, in cooling mode. The device has a dedicated app and relies on artificial intelligence to regulate air temperature.
The Metaura Pro is powered by a twin-turbo PWM motor and cooling modules made up of 26 pieces of lightweight Fin that wrap around the wearer's neck and dissipate heat. The motor is linked to a high-speed fan at the back of the device, which also dissipates some of that warm air around the neck.
The Metaura Pro also a VC plate, liquid-cooled, heat-equalizing mechanism that, "combined with 121 pairs of special semi-conductor particles, creates a Peltier effect". The whole process "efficiently transforms hot temperatures into cool ones."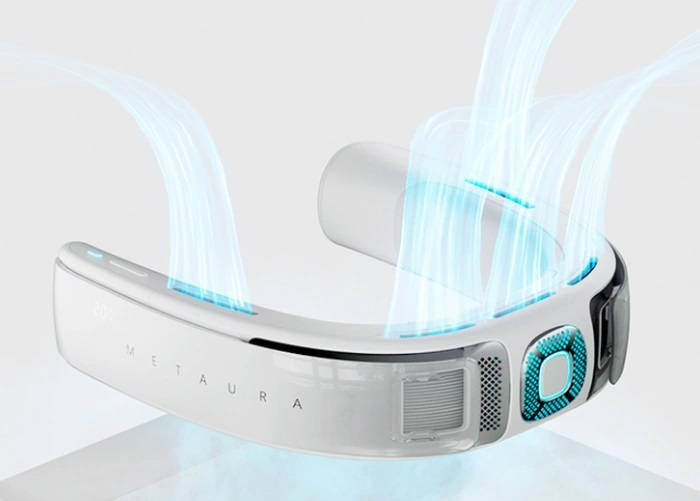 "What sets Metaura Pro apart from the competition is that it produces genuine cold air lower than the surrounding ambient temperature, refreshing you during those dog days of summer," the Metaura Pro Kickstarter crowdfunding page reads. "In conjunction with an efficient semi-conductor chip and three skin-friendly cooling plates that enfolds completely to the back and sides of your neck, Metaura Pro delivers truly personal air-conditioned space, that cools down your entire body."
The Metaura Pro wearable cooling collar is powered by a fast-charging battery that can provide up to 8 hours of cooling on a single charge. The device weighs 435 grams, which is not too heavy, but definitely noticeable. One thing that manufacturers didn't reveal on the product page is the noise level generated by the fans, especially in cooling mode.
Early bird pledges on Kickstarter are guaranteed a 20 percent discount on the recommended retail price of the Metaura Pro, and, with the crowdfunding goal already reached, worldwide shipping of the first units is expected sometime in May of this year. So for a pledge of $159, you can expect to receive a Metaura Pro wearable AC collar and a USB-C charging cable sometime next month.