It's hard to believe that a family with no construction experience could build a two-storey, five-bedroom house all by themselves, by watching tutorials on YouTube, but Cara Brookins and her four kids are living proof that it can be done. Their amazing story is now the subject of a book – 'Rise, How a House Built a Family'.
In 2008, Cara Brookins took her four children (ages 7, 15, 11 and 2) and left her abusive husband in search of a better life. They moved into a tiny home outside of Little Rock, Arkansas, for a while, while they looked for place that could comfortably house her four kids. Her initial plan was to buy a house, but she quickly realized that they were either too expensive or too small for their needs. One day, they passed by a house ravaged by a tornado that had all of its inner workings exposed. It was this sight that inspired them to undertake a challenge that would change their lives.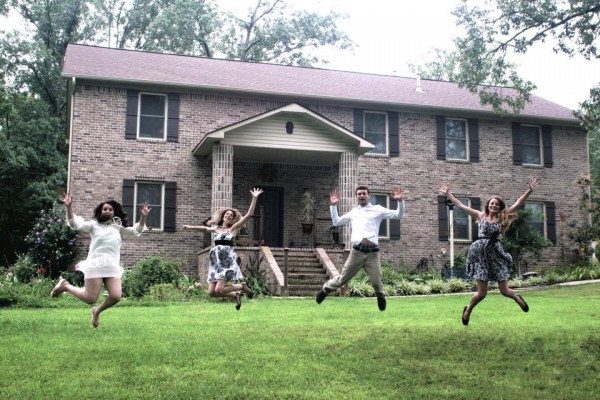 Photo: Cara Brookins/Facebook
"I had rented this cabin for a Thanksgiving getaway," Cara told CBS News. "And driving there, we passed this house that had been ravaged by a tornado. It was this beautiful dream house and it was sort of wide open. You don't often get the opportunity to see the interior workings of a house, but looking at these 2x4s and these nails, it just looked so simple. I thought, 'I could put this wall back up if I really tried. Maybe I should just start from scratch.'"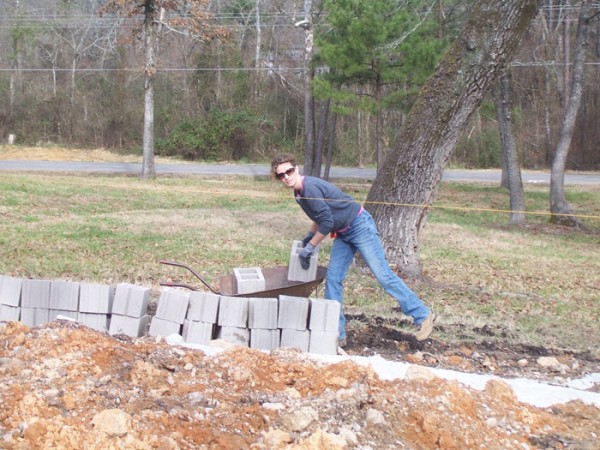 Photo: Cara Brookins/Facebook
Cara did the math, and it turned out that if she sold a small property she owned, they had just enough money to buy an acre of land and the supplies needed to build their dream house. But despite the obvious risks, she decided they needed to take a leap of fate. She started by watching YouTube videos in the evening, after work, and making a list of all the tools and supplies they needed. "Once I had bought all these supplies and they were all piled up, there was no way out," she recalls. "There wasn't enough money to pay anyone to put them together. There was no plan B."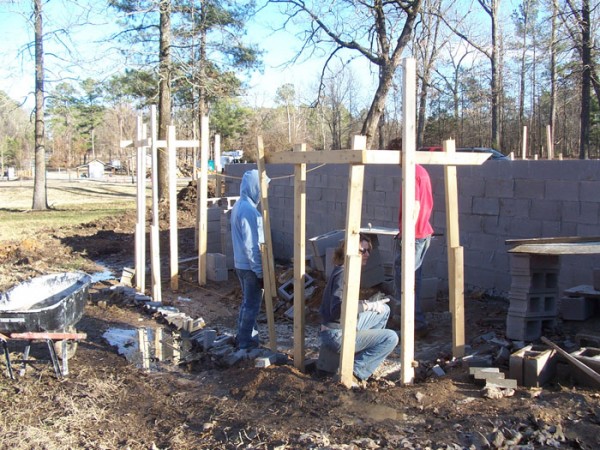 Photo: Cara Brookins/Facebook
YouTube also proved a great source of information on how to actually build the house. "This was 2008, so YouTube was not then what it is now. There weren't really comprehensive videos or channels devoted to this sort of thing," Brookins recalls." "But there's a lot of ways to frame a window or to put a foundation together. So, we would watch three or four videos for each stage of construction and then think, 'Which one of these is going to work the best for us?'"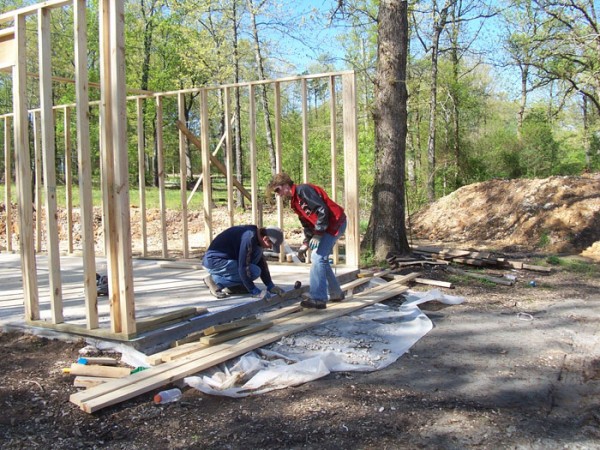 Photo: Cara Brookins/Facebook
Looking back at the nine months they spent building their beautiful house, Cara says she couldn't have done it without her kids. "They were all in," the woman said proudly. "My biggest fear was that my teenagers would wake up and say, 'No, I'm not doing this.' And it never happened. It was the first time they had felt any sort of power, any sort of control over their lives. And they knew how much they needed it."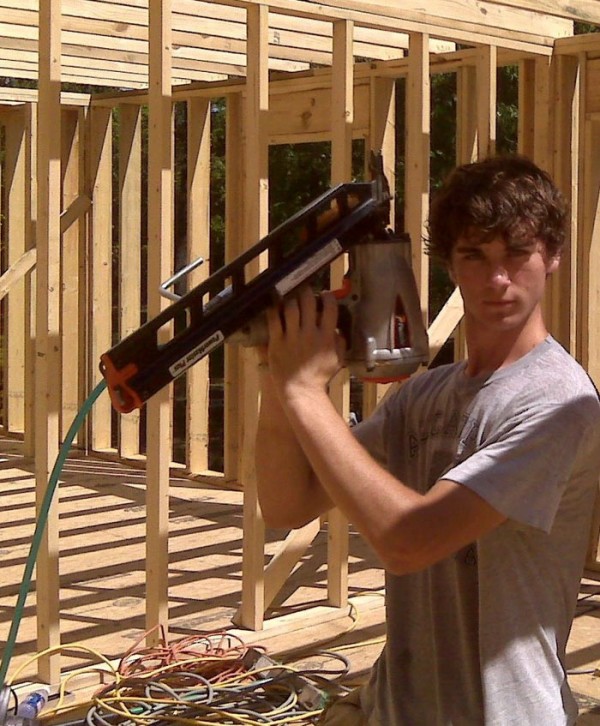 Photo: Cara Brookins/Facebook
Her oldest son, Drew, helped Cara draw the blueprint to get approved by the city, her daughter Jada would haul water from the neighbor's pond to mix the concrete for the foundation, while her other daughter, would cook for everyone. This are just of the things they did while working on the project, while at the same time keeping an eye on 2-year-old Roman who loved nothing more than to play around the construction site. "The entire process brought our family closer together and we learned that nothing is impossible. We found new hope," Cara Brookins says.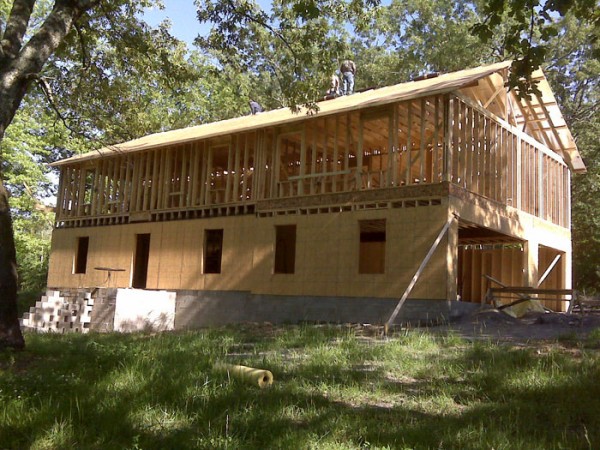 Photo: Cara Brookins/Facebook
Surprisingly, despite their lack of knowledge or experience, the house still managed to pass every city building code inspection. They did such a good job on everything, from hand-mixing the mortar for the foundation to running gas lines and framing walls, that the inspectors were surprised to learn that Cara and her kids had done it all themselves. "I think they thought I was crazy," Brookins joked. "There wasn't a single person that thought this was a good idea aside from my kids. But to me, at the time, it felt like the only answer."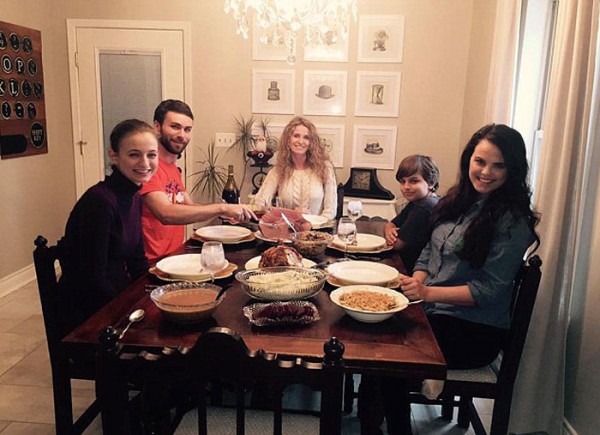 Photo: Cara Brookins/Facebook
In March 2009, after nine months of grueling work, Cara and her kids moved into their new stunning five-bedroom home they named "Inkwell Manor". The property, which features a library, three-car garage, a workshop and a two-storey tree house in the backyard cost $130,000 to complete. The last time it was appraised, it was worth around $500,000.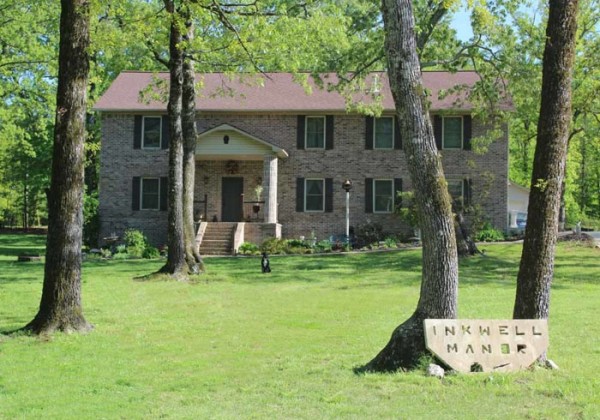 Photo: Cara Brookins/Facebook
The Brookins amazing experience of building a house from the ground up is now the subject of a book written by Cara herself. "I never intended to write a book, it was very private because we were very ashamed that we had got to this place. I didn't even tell my coworkers," she said. "But eventually it became something I had to do to let go of this shame."