A life-threatening pandemic isn't exactly what you would call the best time to find love, especially with social distancing and self-isolation measures in place, but one New York man is trying to make it work.
If you've been jogging through Central Park or any of the Big Apple's running paths, you may have seen these bizarre flyers from a "healthy, attractive and well-employed man" allegedly looking for a "germ-free, healthy, fit and clean" woman interested in a monogamous relationship. It's not the most original or the most romantic way to find a partner, but the man who came up with it says it's a more "targeted" alternative to online dating services.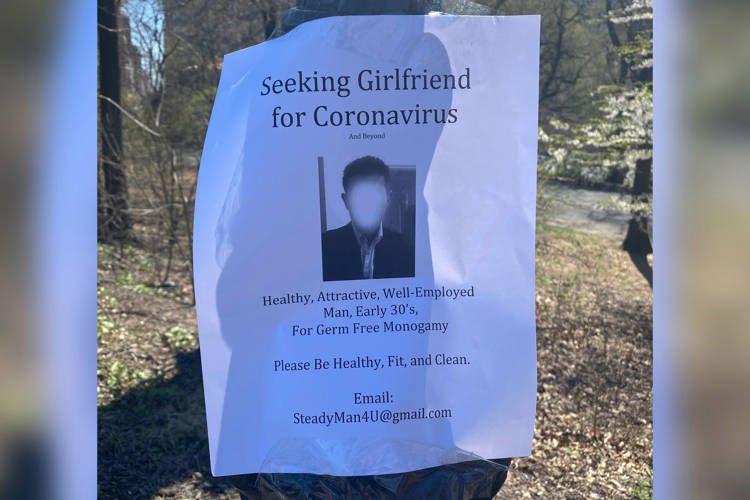 Photo: New York Post
The New York Post newspaper was able to identify the man behind the mysterious posters and ask him  for more information. The 30-something male, who asked to only be identified as Brad, said that he came up with the idea for the flyers while brainstorming ideas for finding a partner during  the Covid-19 pandemic, when physical contact with strangers is strongly discouraged.
"I was single when the lockdown began and have been wondering how and when dating would be possible again," Brad said. "Social distancing has made meeting new people difficult, and now we are all in masks and that is a very unapproachable situation. This is no time for casual dating or hookups, so I am seeking a long-term and exclusive relationship."
As for using flyers as opposed to more modern date-finding options, like apps, or websites, Brad said that he thought it was a more targeted way to find the right kind of person. You see, he is very passionate about fitness, health and the outdoors, so by plastering his flyers on running paths, he increases his chances of being contacted by like-minded women.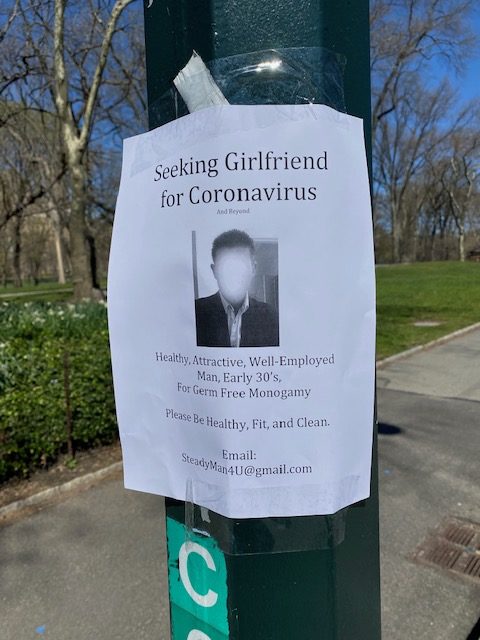 Photo: C9ja Blog
It's "much more targeted and direct than using dating apps, which could be filled with women who have already fled the city, fakes, etc. Also there is much less competition this way," Brad explained.
The 30-something man told The Post that he has gotten plenty of messages from "high-quality women" and he is looking forward to some interesting "six-feet-apart dates". Regarding the email he has listed on the flyers, [email protected], Brad admits that it's pretty funny, but also "a genuine offer of stability in this strange time".
Well, we've seen people advertise for love on billboards before, so why not give flyers a shot as well. As funny as it sounds, the idea seems to have worked so far.