The mystery of a Chinese man's decade long pain in the butt has finally been solved after doctors in Hunan extracted no less than 8 embroidery needles stuck in his right buttock.
For the past 10 years, Chen, a 55-year old retired man from China's Changsha Province, had frequently experienced a stinging, tingling sensation in the right part of his behind, but he never went to have it checked out by a doctor. He reportedly felt the stinging sensation most often when he ran, but because of his busy work schedule, he never went to the hospital. He finally made it to a doctor earlier this month and told him about the mysterious pain in the behind, but the explanation shocked both him and the physician.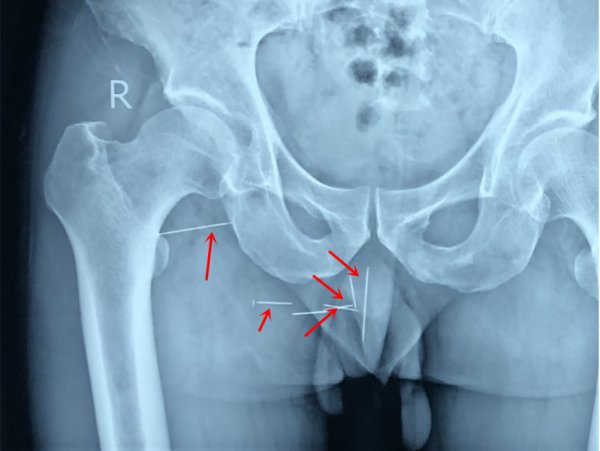 Photo: Xiaoxiang Morning Post
An X-Ray of Chen's backside showed no less than eight sharp needles embedded deep in his right buttock. Asked how they could have gotten there, the 55-year-old remembered that he had once fallen into a pile of garbage at work and that he had indeed landed on metal needles as well. However, he plucked them out of his backside himself, and thought he had removed all of them. Apparently, that wasn't the case.
Some of the needles were stuck in an active muscle, which hurt particularly bad when Chen ran or stretched at a specific angle. After seeing the X-Rays, the doctor recommended that he undergo surgery to have the needles removed as soon as possible. The operation took place on August 15 and lasted over 4 hours.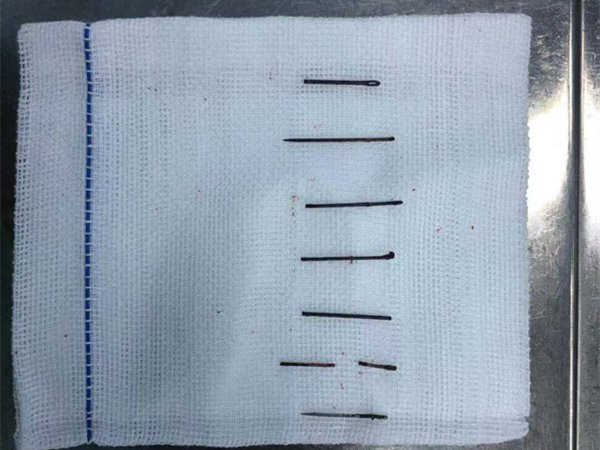 Photo: Xiaoxiang Morning Post
All eight metal needles were successfully removed, but photos show that they had become darker and thicker than they originally were. Chen is expected to make a full recovery and enjoy a normal, pain-free life.
This bizarre story went viral online this week, with most social media users asking themselves how someone could live with so many metal needles in his behind for over a decade.