Cycling enthusiasts in Lidzbark Warminski, a small town in Northern Poland, have recently received a unique, awesome present from the local authorities – a brand new sun-powered bicycle path that glows bright blue all night long.
Scientists at Polish construction company TPA Instytut Badan Technicznych in Pruszkow created the innovative 100-meter bicycle path using luminophores, a synthetic material that lights up when charged with sunlight. According to TPA president Igor Ruttmar, "The material we used for the track gives light for over ten hours. That means the road can radiate throughout the whole night and reaccumulate light the following day". Apparently, the new material can emit light in a variety of colors, but designers chose blue because it went well with the surroundings in Lidzbark Warminski.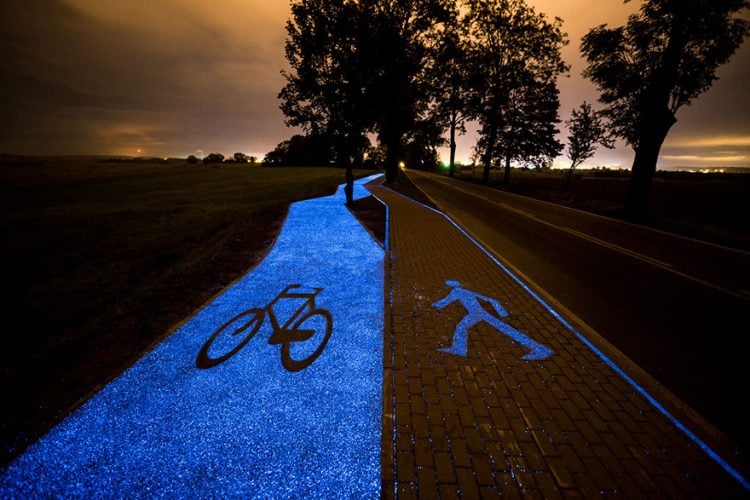 TPA was inspired to create this beautiful glow-in-the-dark cycling lane by the Starry Night bike path built by artist Daan Roosegaarde in the Dutch town of Nuenen, about 100 km south of Amsterdam. But while Starry Night used LEDs powered by solar panels, Polish researchers took the idea one step further by cutting out the middleman. Their bike lane is entirely self-sufficient, which means it is directly charged by sunlight.
The blue-glowing bike lane of Lidzbark Warminski is still in a testing phase, as it is not known how long it will take for its luminescent properties to wear out, but it seems like a brilliant way of improving the safety of people biking at night. Plus it's nice to look at.