33-year-old Alena Kravchenko, a real-life Rapunzel from Ukraine, had her last haircut at age five, 28 years ago. Today, Alena's hair is around two meters long and the young Ukrainian claims that she sometimes trips on it.
Alena's mother had always told her that a woman's feminine beauty stems directly from her hair, and she took her words to heart. The last time she allowed anyone to cut her blonde locks was 28 years ago, and today, even though her extremely long becomes problematic, she is still convinced that her mother was right. "There is nothing more beautiful in the world than a woman with natural, flowing hair," Alena says.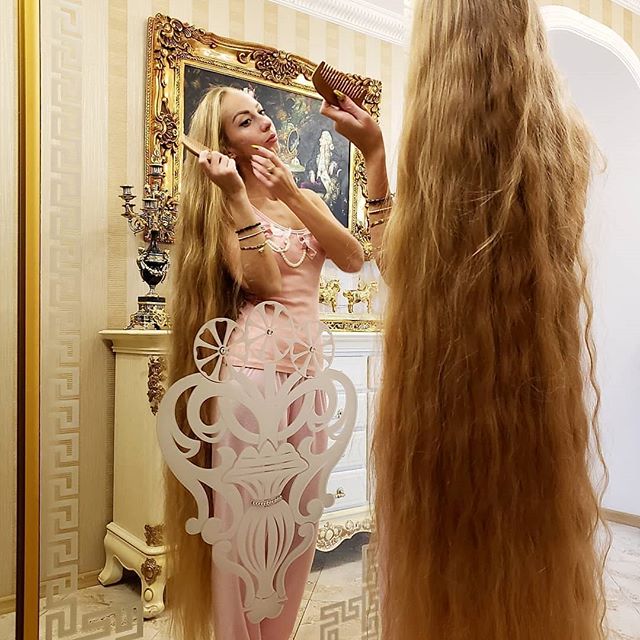 Photo: alenuwka__/Instagram
By the time she had reached her teens, Alena Kravchenko's hair had already reached halfway down her back, and by her early 20s, it reached her waist, then her knees, and in her early 30s, it started touching the floor. That's when she began tripping on it, and as her two children got older, it became even more problematic as they loved to play with it, so Alena started tying it up in a bun, only letting it down on weekends and for special occasions.
View this post on Instagram
"It's now become a bit of a treat to let my hair down, because it is far more comfortable, as in a bun it can be quite heavy," Alena said in a recent interview.
View this post on Instagram
While her two-meter hair isn't growing as fast as it used to, it is getting longer every month, but Kravchenko of visiting a hair-salon for a haircut anytime soon. She says that her long blonde hair is part of her identity and without it she just wouldn't be herself.
View this post on Instagram
Alena describes herself as a "humble person" but admits that she loves being compared to Grimm's character and popular Disney princess Rapunzel. She also enjoys seeing the surprised look on people's faces on the rare occasions she lets her hair down in public.
View this post on Instagram
Although she hopes her two daughters, Valeria and Miroslava, will follow in her footsteps, Alena said that she will leave it up to decide if it's worth spending their whole lives maintaining super-long locks. She hasn't cut their hair yet, just in case they decide to follow her example.
View this post on Instagram
Kravchenko says that she loves taking care of her impressive mane, but only washes it once every three weeks. That's understandable, considering drying that thing must take forever.
View this post on Instagram
The Ukrainian's two-meter-long hair is certainly impressive, but nowhere near record-breaking. Compared to the locks of people like Savjibhai Rathwa, whose hair measured 62 feet two years ago, or Asha Mandela, the woman with the world's longest dreadlocks, it's actually quite short.