A wannabe 'killer clown' who dressed like popular Batman villain The Joker was recently jailed for terrorizing the people of Nottinghamshire, in England, for three months.
29-year-old Damien Hammond, a homeless and jobless man who styled himself like Heath Ledger's character in the hit movie The Dark Knight Rises, has been jailed for 22 weeks and banned from Nottingham for three years, after going on a three-month crime spree just a few miles from the real-life Gotham village. Hammond, who is well known around Nottingham for his obsession with The Joker, reportedly pleaded guilty to disorderly conduct towards staff in various retail stores, waving a gun-shaped cigarette lighter while standing in traffic, and striking a police officer, among other charges. After hearing his sentence, the accused, who showed up to court with bright green hair, said "Send me to prison, I don't care". Typical Joker…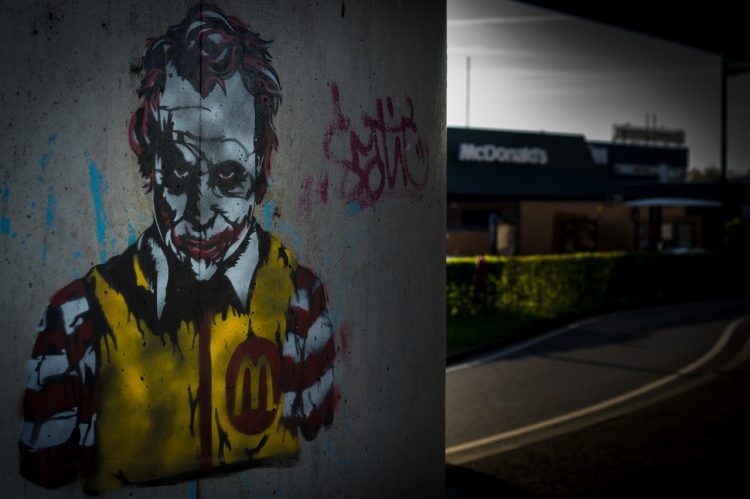 Photo: Skitterphoto/Pixabay
"The defendant's criminal conduct involving intimidating retail staff and disorderly conduct towards police officers, in one case striking an officer to the forehead whilst obstructing a drugs search, has been conducted over a prolonged period of time," Community Protection Enforcement Officer Jeff Surgay said in a report to the court. "That, together with him altering his appearance to resemble 'The Joker' appears to be calculated to induce fear into members of the public and retail staff in the city centre."
Hammond's offences took place between March and April, soon after being given a 21-week prison sentence, suspended for 12 months. A judge recently sentenced him to 22 week behind bars, but he will also have to serve another 18 weeks from his suspended sentence. He was also banned from Nottingham for 3 years. Yeah, right, like that could ever stop The Joker.
"It is very rare for someone to be banned from the entire city centre but when necessary we and our partner agencies will take all steps available to us to prevent this kind of behaviour," Inspector Anwaar Ahmed, of Nottinghamshire Police, said.
As he was being led to jail by police officers, the real-life Joker of Nottinghamshire shouted "See what you have done, I will kill today!", vowing to stab prison officers and fellow inmates once his jail sentence began.
Damn, where's a real-life Batman when you need one?