Buying a home is one of the important financial and lifestyle decisions a person can make, so knowing exactly what you're spending your money on is kind of important. Well, a Belgian reality TV show is flipping that idea on its head by asking participants to trust a couple of experts both with their finances and choosing a house for them, without ever seeing it themselves.
"Blind Gekocht", or "Bought Blind" is an original reality show on Belgian-Flemish channel VIER that invites couples to entrust one of the most important decisions of their life to a couple of strangers. The concept is similar to that of popular reality TV phenomenon "Married at First Sight", where couples, paired up by relationship experts, agree to be married the first time they meet and live as a married couple for eight weeks before deciding either to divorce or stay married. However, couples who decide to go on Bought Blind not only agree to let experts choose their house for them, but also sign a legal document giving these two complete strangers power of attorney, allowing them to sign the deed to the house on their behalf, and spend their budget as they see fit. They only get to see their new home once the deed has been signed and the redecorating has been completed, so if they don't like it, all they can do is sell it.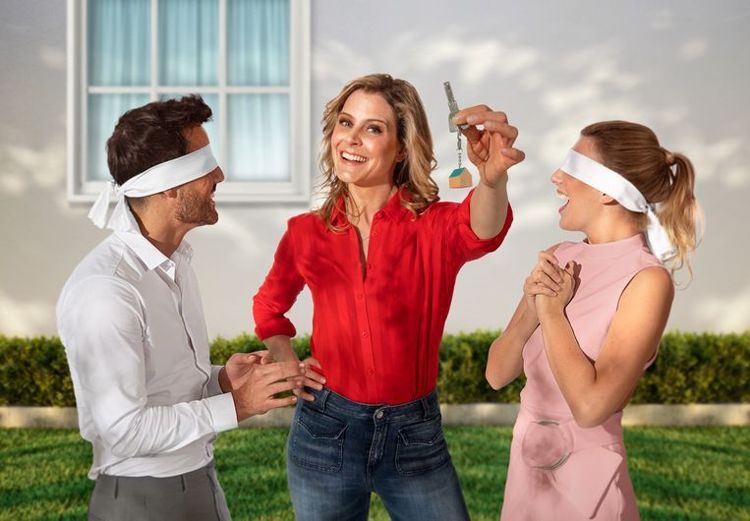 Photo: Blind Gekocht/VIER
After agreeing to go on Bought Blind, couples sign a legally-binding document that gives the show's experts – an experienced real-estate agent and an interior decorator – complete control over their savings or mortgage loan, allowing them to buy a house that best fits the couple's preferences in terms of budget, location, space, etc.. The paperwork also specifies that the couple will receive no information about the house until the day the keys are handed to them. The couples only get to see the experts twice: once to convey their wishes and a second time when they move into the finished house.
"Couples take a huge financial and emotional risk because everything they own and all their hopes end up in a house they are not sure they will like to live in," the trailer for Bought Blind states, adding that the concept for the show is "unheard of, confusing and obviously controversial".
Some real-estate experts say the concept isn't as crazy as it might seem, as in countries like the USA or the Netherlands it is common for a real estate agent to buy a house for someone who does not have the time or patience to do it themselves. They also add that the two experts put their reputation on the line with every decision they make so they are motivated to act in the best interest of their clients. In the worse case scenario, the couples won't like the house and will simply put it up for sale.
"You have to look at it rationally," Bart, one of the participants on Bought Blind, told Flair.be. "It is really an opportunity. You will get a house back worth the money you have put up. In addition, you get the help of two experts who cannot afford to lose face on television. It was a gamble, but a reasoned one."
Still, the idea that the people putting up the money for the house are kept in the dark until the day they can move in is definitely controversial, and judging by the trailer, some of the participants seemed disappointed with the choices made by the experts. "You receive the keys to a house where you do not even want to live," a sobbing woman says.
The first episode of Bought Blind aired on March 27 and it didn't quite have the happy ending of American-style reality shows. After seeing the house bought for them, Bart and Els realized that it wasn't quite the home of their dreams and that there was still a lot of renovating to be done. They didn't know if they'd have the budget to make the necessary changes. It's unclear whether they'll be keeping it or opt to resell it.