A Russian pensioner recently made national news headlines after stripping two tall pine trees on his neighbors' property of all their branches and using them as supports for a wooden tree house. He never asked for permission to do this, instead taking advantage of the fact that they were away on vacation.
Irina Chukanova and her family have been living on a small plot of land near the city of Nizhny Tagil for 10 years, and they've never had any problems with their neighbor, Yuri Stepanov. That all changed this spring, when the pensioner started complaining about the two pine trees growing on the Chukanovs' property, claiming that all the needles and cones ended up on his land, and he was sick of having to clean up the mess. He repeatedly asked his neighbors to cut down the trees, but they were reluctant to do so, and instead promised to come up with a solution in the fall. Only Stepanov apparently got sick of waiting, and decided to take matters into his own hands.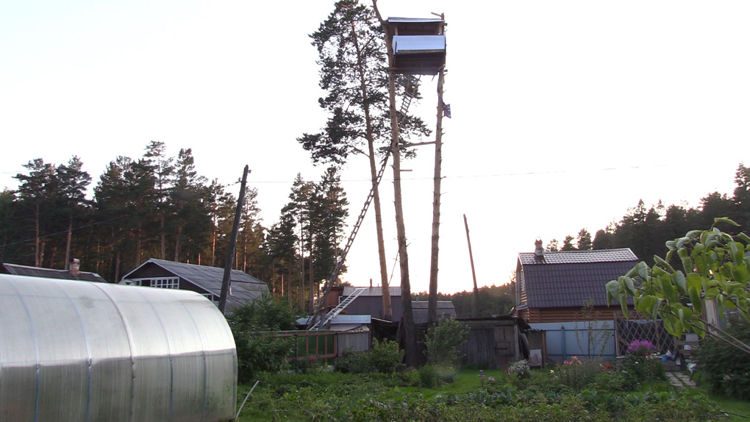 Photo: 66.ru
At the end of August, while his neighbors were away on vacation, Yuri Stepanov took it upon himself to strip the two pine trees of all branches and build himself a wooden tree house on top of them. When the Chukanov family returned home after 10 days, they were shocked to see their neighbor living on their property, even though technically, he wasn't on their land, but about 18 meters above it.
"When we returned home, we were shocked by what we saw. We tried to talk to him and explain that what he did was illegal. That these trees are our property, but our neighbor only mocked us with his answers," Irina Chukanova told 66.ru. "In his opinion, the house is in the air and has nothing to do with our property. The funny thing is that he claims that thanks to this thing he built, the cost of our land is now 100,000 rubles higher, and he is actually asking us to pay 4 thousand rubles, which we apparently owe him for building materials."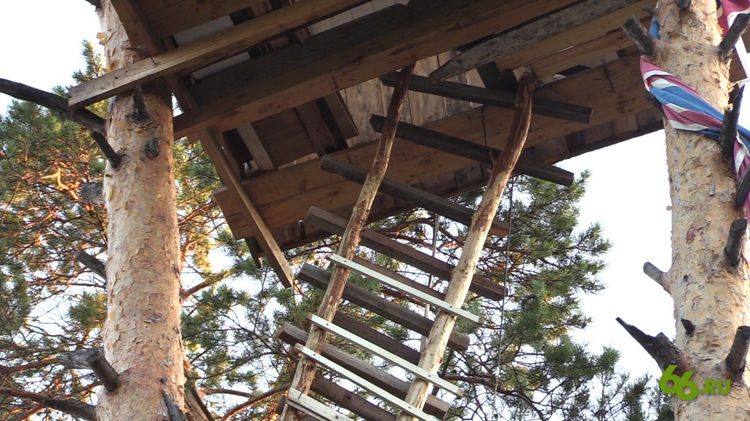 Photo: 66.ru
Aside from the fact that the tree house was built illegally on someone else's property, it was also declared a safety hazard, as it could collapse at any time, despite the builder's claim that it could even withstand a hurricane. The Chukanov family had tried to reason with their neighbor, but to no avail, and even 66.ru reporters had trouble communicating with him. However, the Russian website did publish a document that Stepanov handed to the police, as explanation for his actions.
In this document, the pensioner claims that it was Chukanova's husband who asked him to strip the two trees of branches and build an observation platform on them instead. Stepanov claims he was promised 4,000 rubles for his work, but just before leaving on holiday, his neighbors told him that they had changed their minds. Since he was already prepared for the project, he decided to go ahead with it once they left. Obviously, Irina Chukanova denies this version of the story.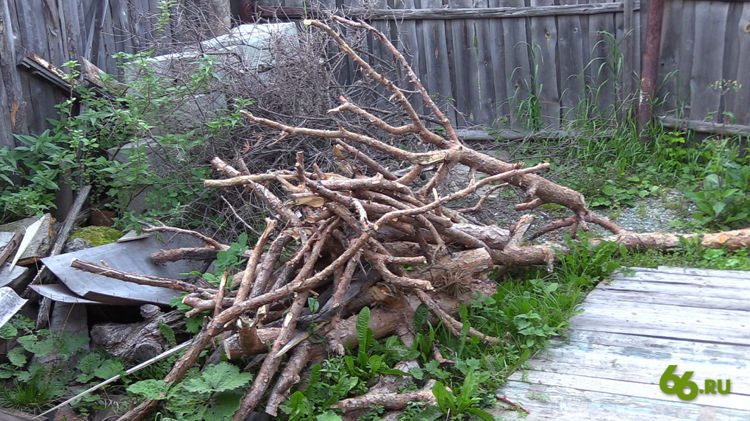 Photo: 66.ru
With police unwilling to evacuate Yuri Stepanov without a court order, the Chukanov family had no choice but press charges against their neighbor, with the first hearing having took place on September 4. However, that date passed and the 66-year-old only received a 100-ruble fine. He actually continued living in the tree house until yesterday, when he finally started tearing it down, claiming that he had never meant to cause trouble and was going to move the house in a nearby birch.
Yuri Stepanov went as far as to say that he only wanted the tree house to be a nice surprise for his returning neighbors, but that didn't convince the Chukanovs to drop their appeal against him. They are currently asking for 20,000 rubles as a reimbursement for the damage caused to their property.