It's not every day that you see pigeons with cowboy hats on their tiny heads walking or flying around. Unless you live in Las Vegas, where cowboy-hat-wearing pigeons are actually a a thing these days.
It all started on December 5, when a Las Vegas resident named Bobby Lee noticed two funny-looking birds pecking the ground near a dumpster. The pigeons drew his attention because they were wearing these tiny cowboy hats – one red and one grey – so he whipped out his smartphone and started filming them, later uploading the video to Facebook, where it quickly went viral. The next day, everyone was talking about Las Vegas' cowboy-hat-wearing pigeons, and Lee was getting phone calls from agencies trying to license his video.
It was only a matter of time before news outlets picked up the story and reporting on the mysterious pigeon cowboys spotted around Las Vegas. The only link anyone could think of was the Wrangler National Rodeo Finals that were taking place in town at the time, but the Professional Rodeo Cowboys Association, which organized the event, denied any involvement in the stunt.
Online, the response to the tiny flying cowboys was mixed. While some just found the idea cute and jumped at the opportunity to catch the pigeons on camera if they spotted them around Vegas, others expressed concern about the birds' well-being, or going as far as to cite animal cruelty.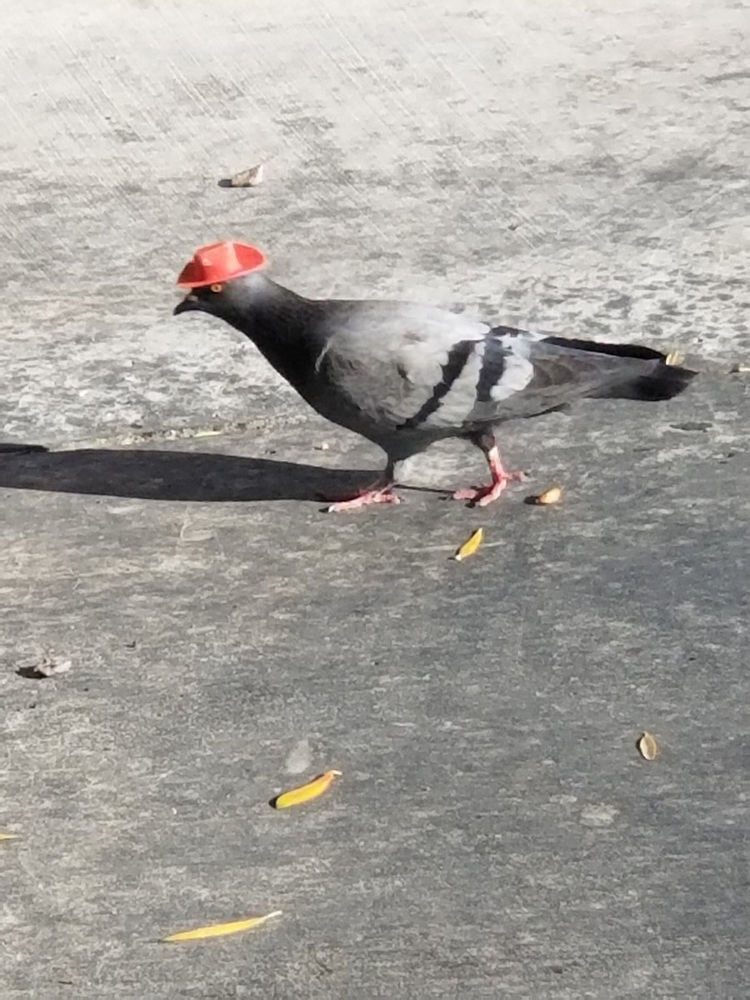 "At first, I was like, oh my God that's cute!" Mariah Hillman, co-founder of local pigeon rescue Lofty Hopes, told KVVU. "Then, I was like, wait a minute – how did they get those hats on there? Did they glue them? And what does that mean for them? Is it something that's going to impede their flight or attract predators?"
Hillman said that her organization is on a mission to track down the birds and remove their hats, but trapping them with food has proven very difficult so far. That's because the two known cowboy-hat-wearing pigeons – nicknamed Cluck Norris  and Coolamity Jane – have become very popular around Las Vegas, and people often throw them food, which makes luring them with food difficult.
"When we saw them today, you could see some loose feathers in the glue around the hat, it's definitely a concern," Hillman told CNN, adding that she believed the hats had been glued on with a strong adhesive. She thinks the tiny hats will only come off when the pigeons moulted.