A circular, slow-turning sheet of ice in Maine's Presumpscot River has captured the imaginations of millions around the world after photos and videos of it have been shared on social media.
It's been called a "frozen crop circle", a "frozen moon", an alien ship", but scientists say it's a rare natural phenomenon at an unprecedented scale. Rotating ice circles have been reported in the US before, but they were in the 20- to 30-foot range, whereas the ice disk in the Presumpscot River, in the city of Westbrook, is roughly 100 meters wide. It is constantly rotating counterclockwise and it's size appears to vary according to the outside temperature and sunlight – it's larger in the morning, but shrinks when the sun is strong and the temperature rises.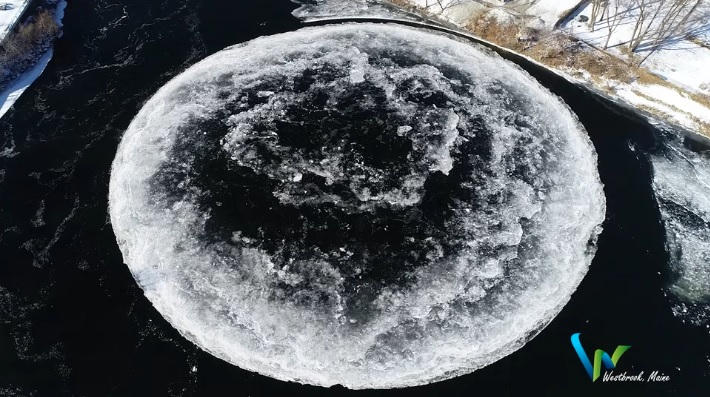 Photo: Westbrook Maine/Vimeo
While the exact science behind the formation of these rotating ice discs is still a mystery, some researchers believe they occur because of temperature changes in the water, which creates a vortex under sheets of ice that break off from the frozen shore. As the ice spins, the friction with the water, slush and other pieces of ice causes the edges to be shaved off and a circle is formed.
Mark Battle, an associate professor of physics at Bowdoin College in Brunswick, told the Press Herald that he had never seen anything like the Westbrook ice disk.
"It's definitely not being caused by the Coriolis force (that objects experience because of the Earth's rotation)," Battle said. "It looks marvelous, it's a beautiful thing."
"It might be a world-record size, if anybody were keeping track," Dr. Kenneth G. Libbrecht, a professor of physics at the California Institute of Technology in Pasadena, California, told the New York Times.