If run of the mill disaster survival kits just don't cut it and you can afford to splurge a few extra bucks on something more befitting your social status, try Preppi, a luxury doomsday kit supplier for the super rich.
Film director Ryan Kuhlman founded Preppi in partnership with costume designer Lauren Tafuri, and they run the business out of their downtown Los Angeles loft. The couple experienced a small earthquake in 2014 and realized that they should have supplies on hand for such emergencies. Today, their Prepster disaster kits are the most popular luxury survival accessories on the market.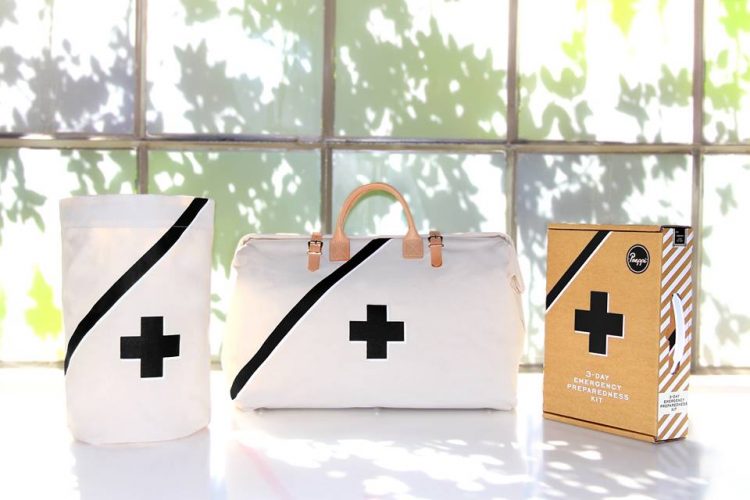 Photo: Preppi/Facebook
"We started asking friends what they had in their earthquake kits and were quickly surprised how few of our friends had anything prepared at all. Of 10 friends, maybe one had an earthquake kit," Kuhlman told Entrepreneur Magazine.
After shopping around for pre-packed kits at military surplus and sporting good stores, the couple realized that not only were the bags pricey, but they also didn't contain everything they needed. In a typical case of necessity being the mother of invention, they decided to make their own kits packed with essentials recommended by the Red Cross, but also luxury items they might miss in an emergency. They chose a utilitarian but also stylish mason's tool bag and packed it up. They realized that they had created a product that others might want to buy.
"It was the concept of taking a mundane item and reinventing it so it would exist in a space where people would actually want to get prepared, especially in California," Tafuri told the Hollywood Reporter. "We all need this. But we thought, 'What is it going to take to get people ready for something?' If it's not interesting or well-designed, people are not going to engage."
"Historically, everyone puts candles and flashlights in the junk drawer; you put the emergency kit in the back of the closet or the garage," added Kuhlman. "And those are all the worst places to have emergency gear. Our customer finds the object too attractive to stash away, so now if there's an earthquake, everyone's kits are within arm's reach. We really wanted everything to come from a place of legitimate survival thinking, despite having a pretty wrapper."
In March 2014, the couple launched Preppi by posting a mock-up for their concept for a chic emergency supply kit on Instagram. Within a few days, an editor for Dutch magazine Fantastic man contacted them looking to feature the product. They quickly located a bag maker in their industrial neighborhood to make three bags, and the first Prepster bag sold just a few weeks later.
"We didn't want to put a $50,000 investment into something and take something very seriously," Kuhlman said "We wanted to take it lightly and experiment and test the waters. But because it was scalable and because so much of the stuff is made locally, the bag maker was able to let us start with three bags."
The couple reinvested the profits from each sale into ordering bags and the more than 170 items to fill them with. It was in November 2014, however, that sales exploded when Gwyneth Paltrow featured the kit on her website Goop.
Since then Preppi survival kits have become a staple holiday gift among Hollywood celebrities. Steven Spielberg and Amblin Entertainment ordered hundreds of Preppi kits as holiday gifts in the past month, and Julia Roberts has already been gifting them for years. Pink recently ordered six kits, and Jerry Hall, Ben Affleck, Whoopi Goldberg, Melissa McCarthy, Zach Galifianakis, Maya Rudolph and Sofia Vergara are other famous clients. Warner Brothers production company handed out over 600 kits, the largest order to date, as gifts at wrap parties for their films. Last year, Julie Bowen of Modern Family received a Preppi bag and loved it so much that she ordered over 150 for the show's entire cast and crew. Bowen posted on Instagram: "Check out our awesome holiday gifts to the crew. Now they'll all survive three days no matter who the President is!"
The survival kits, which retail between $95 USD and $4,995 USD, are packed with luxury essentials such as Malin + Goetz toiletries, Marvis toothpaste, Mast Brothers chocolate, Kusmi tea, as well as more typical items such as a hand-cranked phone charger, and a stylish first aid kit. The canvas bags, which can include optional monograms and glow-in-the-dark graphics, are manufactured in downtown Los Angeles.
The startup plans to expand the market in 2018, bringing the Preppi kits to New York City and Japan. They also have plans to launch a new product a hurricane and tsunami focused waterproof bag that floats.