Police in Thailand are looking for a serial scammer who has apparently married at least eight men in the last two years, disappearing from their lives completely right after collecting the dowry money from their families.
The real-life "runaway bride", 32-year-old Jariyaporn "Nammon" Buayai, had apparently been called out as a scammer on social media a long time ago, but she only appeared on the radar of law enforcement a few days ago, after one of her victims filed a formal complaint against her. Prasarn Tiamyam, 32, claims that he recently saw a Facebook post warning Thai men to stay away from Nammon, and recognized her as the woman he married two years ago, after she told him she had gotten pregnant. She had disappeared days after the wedding, with a dowry of THB 200,000 ($6,000) and never came back.
Photo: Facebook
Prasarn, who is now remarried, told police that his ex-wife added him on Facebook in February of 2015, and nine months into their relationship told him she had become pregnant and that they should get married. He agreed, and they had the wedding at a seaside resort in Prachuap Khiri Khan province. Just four days after the event, Jariyaporn told him she had to go help her parents with their fruit business, and that she'd be in touch. Prasarn couldn't get in touch with her after that, and after a while, he received a phone call from a woman who claimed to be his wife's niece, telling him that she had lost the baby and he shouldn't try to contact her anymore.
The man, who claims Jariyaporn never agreed to let him meet her parents during their nine-month relationship, only realized he had been scammed after seeing the warning post doing the rounds on Facebook.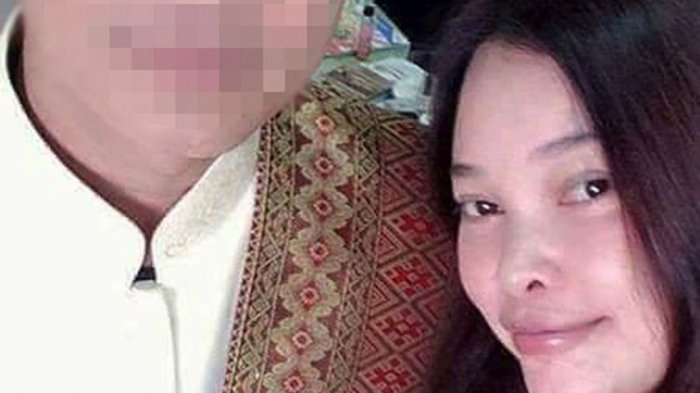 Photo: Facebook
Soon after Prasarn Tiamyam's story showed up in the media, other men came forward to accuse Jariyaporn "Nammon" Buayai of scamming them out of the wedding dowry. One man, who chose to remain anonymous, told Khaosod that the serial bride added him on Facebook in February of this year, and tricked him into depositing a THB 500,000 ($15,000) dowry into her bank account, before disappearing. She just let him know that it wasn't a good time for her to be married because of a "bad horoscope".
Another victim, known only as 'Wichit", told Morning News that he was in contact with seven other men who had been duped by Nammon. She had contacted them all via Facebook, slept with them on their first date and told them that she was pregnant. They all agreed to marry her, and she just ran away with their wedding dowry.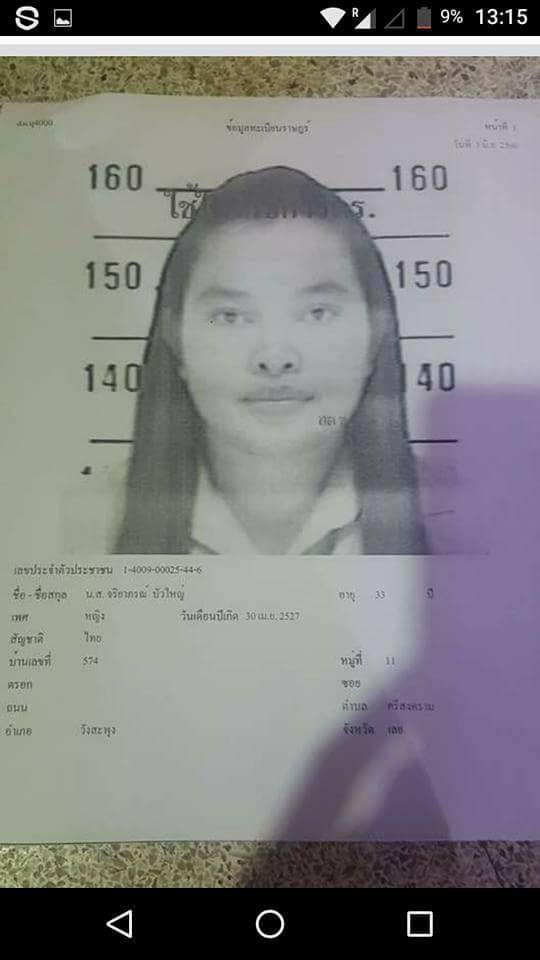 Photo: Facebook
A Facebook post dated August 30, which has since went viral, claims that Jariyaporn "Nammon" Buayai was able to marry five different men in just one week, last month, although this has yet to be confirmed by police.
Authorities are treating this bizarre scam with the utmost importance, and have recently visited Nammon's parents in Nong Khai province, only to find that they had also disappeared. They were able to locate the woman's older sister, who said that she had cut ties with the scammer a while ago, after she failed to return a THB 10,000 debt. She apparently still pleaded with Jariyaporn to turn herself in, because she was worried about their parents' well-being.
via Coconuts Bangkok