On January 22, 1977, 24-year-old P.K. Mahanandia set out on a four-month bicycle ride from Delhi, India, to Boras, Sweden, to be with the woman he knew was his soulmate. Their amazing love story became the subject of a best-selling book by Swedish author Per J. Andersson.
Mahanandia met Charlotte Von Schedvin in 1975, completely by chance. He was working as a sketch artist in Connaught Place, a shopping and business hub in Delhi, and Ms. Von Schedvin, from Sweden, was visiting India as a tourist. One day, as she was walking around the city, she noticed a curly young man with a sign that read "a portrait in 10 minutes for 10 rupees" and decided to test the claim. She sat down for a portrait, but something made the man nervous, as his hands wouldn't stop shaking. Disappointed with the result of his drawing but intrigued by the man, she decided to return the next day for a new one, but the result was no better.
The Swedish tourist would later learn that P.K. Mahanandia had very good reason for being nervous. The moment he had laid eyes on her, the artist remembered a prophecy his mother had made when he was only a boy. Mahanandia was a Dalit, the lowest caste in Indian society, and faced discrimination from upper-caste students growing up, so whenever he was said, his mother would tell him that he would someday marry a woman "whose zodiac sign would be Taurus, she would come from a far away land, she would be musical and would own a jungle". As soon as he saw her, he knew she was the one.
Photo: P.K. Mahanandia 
"I didn't even ask for her name first. I asked her if she was born in May, was a Taurus and owned a jungle. She kept saying yes to all the questions," Mr Mahanandia recalls. "I knew we were destined to meet. I told her she was going to be my wife, and then I got frightened that she would go to the police station which was nearby."
But that was the last thing Charlotte was thinking. She was also attracted to him, and despite the odd question he asked, he appeared honest, which only made her more curious about why he had asked her all those things.
The two kept meeting, and less than three weeks later, P.K took Charlotte to his home state of Orissa – now known as Odisha – where they got married according to tribal tradition. Soon after that, it was time for the Swede to return home with her friends, but she made her new husband that he would join her in the Swedish textile town of Boras. She even tried to leave him money for a plane ticket, but the proud young man refused to take it.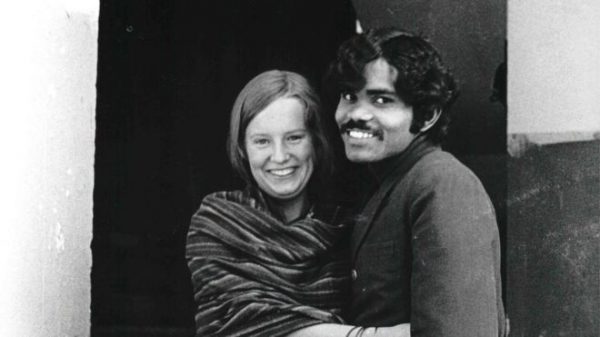 Photo: P.K. Mahanandia 
They kept in touch through letter for a year, but P.K.'s financial status didn't get any better, so he couldn't afford a plane ride to Sweden. But he wasn't going to give up on the love of his life either, so he sold all of his belongings, bought a bike for 60 rupees, and decided to cycle to the northern European country on the popular "hippie trail" that many Europeans crossed on motorcycle to India. If they could journey on a motorcycle, maybe he could do it on a bicycle.
He left Delhi on January 22, 1977, passing through Pakistan, Afghanistan, Iran and Turkey to reach Europe. "Art came to my rescue. I made portraits of people and some gave me money, while others gave me food and shelter," Mr Mahanandia said. Even when he didn't know the language of the country he was in, art acted as a universal language and always got him out of trouble.
"My legs would hurt. But the excitement of meeting Charlotte and seeing new places kept me going," the artist remembers. On May 28, he finally reached Europe, and from Venice, he took a train to Gothenburg, Sweden, about 70 km from Boras, where Charlotte was waiting for him.
Photo: P.K. Mahanandia 
"When she saw me, she came dashing towards me. I said, 'sorry I smell bad.' But she held me," P.K. says, laughing. And they have been together ever since. Despite several culture shocks and problems impressing Charlotte's parents, a noble Swedish family – they legally got married in the norther country, and she helped him adjust to his new life.
"I had no idea about European culture. It was all new to me, but she supported me in every step. She is just a special person. I am still in love just as I was in 1975," Mahanandia told the BBC.
P.K. Mahanandia became an art teacher, and his paintings have been exhibited in art galleries throughout Europe, while his wife Charlotte opted for a career in music. The two have two children – Emelie, 31, a textile economist, and Karl-Siddhartha, 28, a helicopter pilot – and are just as happy together as they've ever been.
One thing that the Indian artist has never been able to understand about Europe is people's love for cycling. "I did what I had to, I had no money but I had to meet her. I was cycling for love, but never loved cycling. It's simple," he says.