This is a somewhat older story that was originally reported by media primarily in Indonesia and other East-Asian countries back in 2018. It got a lot of attention because it touched on a very taboo topic – the romantic relationship between an adult male teacher and a 13-year-old schoolgirl.
Erwin Pangaila was 27 when he fell in love with a junior high school student at the SMP Negeri 2 Tenga school, in Sulawesi Utara, Indonesia. In fact, it was 13-year-old Vinda Virginia who first noticed and approached him. She happened to walk by his classroom saw him writing on the blackboard and immediately fell for his broad shoulders and athletic physique. She wasn't the only girl in school to have a crush on Erwin, but she was determined to be the one that won his heart. She started staying behind after classes to ask him questions and eventually, their student-teacher relationship turned into a romantic one.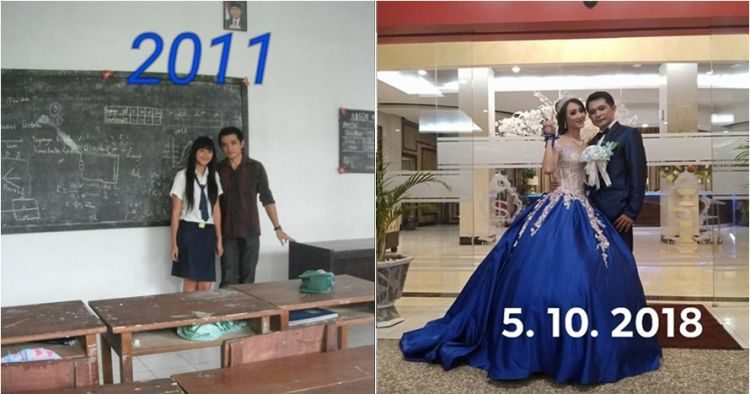 Photos: Erwin Pangaila/Vinda Virginia
For an adult teacher to become romantically involved with a student has always been considered controversial, even unethical, and Erwin and his now wife Vinda admit that they had to overcome a lot of adversity over the years. Both very religious people, the couple relied heavily on their faith in God to keep their relationship strong, and on October 5, 2018, after seven years of dating, the two finally tied the knot. Vinda was 20 and Erwin 34.
It's unclear how the two managed to date back in 2011, when Vinda was only 13-years-old, but there are definitely plenty of pictures that show the two of them in romantic circumstances back when she was still a schoolgirl. Even today, two years after the story was featured in the news, their relationship and love story is still considered controversial, although most people on social media applauded their resolve and strong love for each other.
Both Erwin Pangaila and his wife Vinda Virginia have strong followings on social media, especially Facebook, where they post photos of themselves and their young daughter, along with romantic love declarations to one another.
Sources: Tribun News, Grid.id