A longtime Predator fan in Thailand has been getting a lot of attention for dressing up as a real-life human-hunting alien and riding his custom-made, Predator-themed choppers on the roads of his home province.
A video of a someone wearing a realistic Predator costume and riding an alien-looking chopper on a road in Thailand's Mukdahan province has been doing the rounds on social media since last month. Unfortunately, the viral video doesn't offer any context whatsoever, relying solely on the impressive visuals to attract attention, but it turns out that this isn't just a random cosplayer, but a dedicated Predator fan known by the local communities as the Predator of Mukdahan.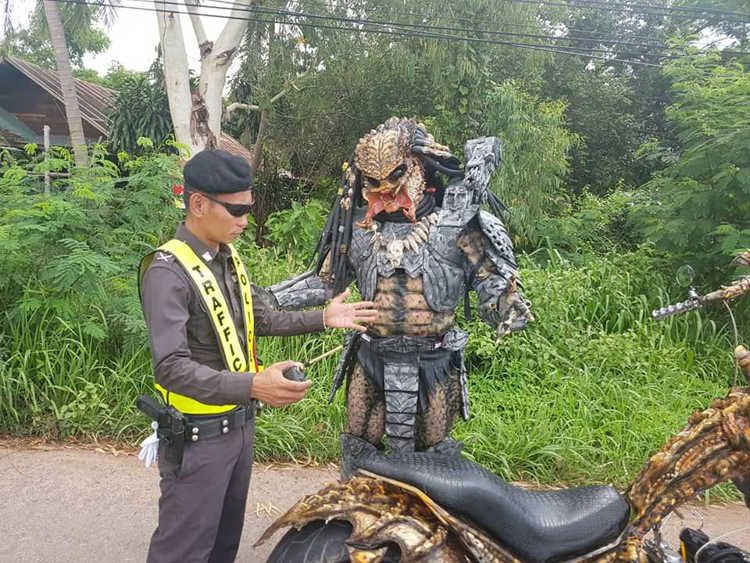 Photo: Imgur
Samai Khammongkul leads a double life. On weekdays, he is a manager of Charoen Pokphand,Thailand's largest private company and one of world's largest conglomerates, but in his free time he puts on his custom Predator costume, gets on one of his four Predator-themed motorcycles and becomes an intergalactic trophy hunter. Khammongkul  has been a fan of the Predator for over a decade, but only started making his own costumes and customizing motorcycles six years ago.
Thailand's very own Predator first attracted attention in the country's southern region, after people spotted him riding his unique motorcycles dressed as a real-life alien on national roads, but ever since he returned to his native Mukdahan province he has become known as the Predator of Mukdahan.
Samai Khammongkul made national headlines last year after getting pulled over by police for riding one of his bizarre-looking choppers while wearing a realistic Predator costumes. Photos of a real-life Predator talking to a Thai police officer went viral all across Asia and boosted his popularity. He later told reporters that he was on his way back home after giving giving an inspirational talk to high school students at a local school, which he apparently does on a regular basis.
"I wanted to encourage and inspire the kids who weren't doing so well in school," Khammongkul told Khaosod English. "I was also not a good student, with around a 2.0 GPA, but it's important to find out what's unique about yourself. Everyone is good at different things, or good at different times in your life."
Asked why he went in wearing his iconic Predator garb, the Thai man said: "You gotta go in with an out-of-the-world concept, or else they won't remember you."
Khammongkul makes the realistic-looking Predator costumes himself using rubber, clothing, foam and metal, and reportedly spends between 40 to 50 days on one. He also sells his creations to fellow Predator fans on Facebook, for about 55,000 baht ($1,800), which he says is a steal, as imported Predator costumes sell for at least 100,000 baht ($3,200).
"The head piece is actually also a helmet. I designed it this way so I can wear it while riding a motorcycle. I even cut a bit of the nose for visibility," Samai said.
Apart from riding around Mukdahan province and giving inspiring speeches to school students, this Thai Predator also loves attending cosplay events and biker gatherings, as well as stopping for photos with random strangers. He just loves making people happy, and if that means posing for photos with strangers, he's glad to do it.
"I like the Predator because he's so hi-tech, Samai Khammongkul said about his love for the popular Hollywood character. "He's got blades that come out from his shoulders, laser beams, stealth technology and a language translator. He can even scan someone to see if they have cancer, so he doesn't have to kill them if they're going to die anyway."