Nicolas Gentile, a 37-year-old fan of Tolkien's fantasy, decided he wanted more than just to read about the life of his favorite characters, the hobbits, so he started living as a real-life hobbit himself.
A pastry chef by training, Nicolas Gentile grew up reading J.R.R. Tolkien's books and watching the popular Lord of the Rings and The Hobbit movie trilogies. He had always been a fan of fantasy literature, movies, and games, but it was Middle Earth that captured his imagination the most. Only at one point, reading about and imagining the world and characters he loved wasn't enough anymore. Gentile was tired of experiencing the adventures of others and decided that he could be a character in his very own real-life adventure, so he decided to start living as a hobbit.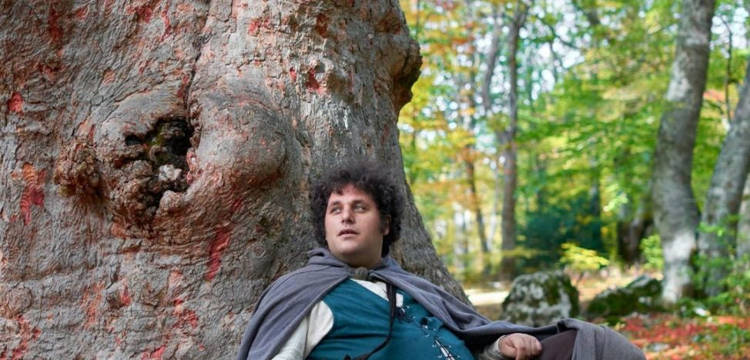 Photo: Nicolas Gentile
"Some time ago, I realized that books and films were no longer enough for me to satisfy my passion for the fantasy genre and, in particular, for the Lord of the Rings saga," Nicolas Gentile told The Guardian. "I was still reading about the lives of other people. I decided that I wanted to live my hobbit life to the fullest."
In 2018, Nicolas bought two hectares of land in the hill-covered countryside of Abruzzo, in central Italy, and started building his own hobbit burrow. He and his family have been living there ever since, dressed as hobbits, dancing singing, and preparing local dishes. They've been having so much fun that the real-life hobbit now wants to expand his little shire and attract other like-minded people.
View this post on Instagram
The 37-year-old didn't disclose how much his cozy hobbit house and the land around it cost him, but he did say he spent almost all of his life savings on them. Now he wants to crowdfund approximately $1.7 million in order to build a full-size hobbit village called the "Gentile County."
"This project does not aim to make a profit," Gentile told Insider Magazine. "If I had wanted to get rich, I would have invested in bitcoin! All I want is to meet people like me, who have the same magic in their eyes and a love for the simple things in life, who enjoy dinner with friends and an adventure in the woods now and then."
View this post on Instagram
Gentile recently made news headlines after re-enacting Frodo's epic journey to destroy The One Ring in the fires of Mount Doom, where it had been forged. Only in real life, he and several other Tolkien fans embarked on a 180-mile journey to Mount Vesuvius, to throw in a replica of the ring. Still, it was a memorable journey that neither he nor his companions will ever forget.
"We walked almost 180 miles of mountains and woods, rivers and ancient cities, and got lost in the mountains. We also met fantastic people who helped us until we got to Vesuvius, our Mount Doom, where I threw the Ring in," Nicolas said.
View this post on Instagram
The Italian real-life hobbit documents his life in his very own hobbit shire on Instagram, where he regularly posts photos and videos for other fans of Tolkien's fantasy universe.