Many smokers pick up the habit at an early age, but there are probably not many who started as early as Rapi Pamungkas. This Indonesian 2-year-old apparently started smoking by picking up discarded cigarette butts nearby his mother's market stall, which older boys would then light for him, and now reportedly goes through 40 cigarettes a day.
Soon after starting smoking, Rapi became hooked and soon became famous in his native city of Sukabumi for harassing passers-by and pestering them for cigarettes. Many locals found his antics amusing and would give him cigarettes, laughing as he lit them up. Videos of the extremely young child started doing the round online, and his story recently went viral worldwide. In some of these videos, people can be seen trying to take the cigarette from Rapi; he responds by scowling and pulling the cigarette back.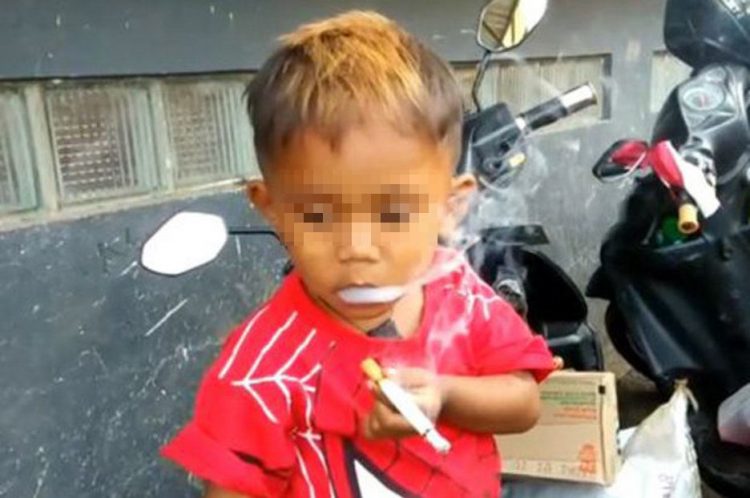 Photo: video screengrab
Rapi has allegedly been addicted to smoking for around 2 months. Apparently, he also likes to have coffee and cake with his nicotine fix. His mother Maryati has admitted to supplying her young son with two packs of cigarettes a day. She says that without them, her son would throw tantrums.
"He has been smoking every day for around two months. If I don't give him a cigarette, my child goes berserk. If Rapi doesn't get cigarettes he cannot sleep. He will start rampaging and crying," Maryati told reporters.
Rapi's parents (who have attracted some harsh criticism online) are planning on taking their child to the doctor in order to help him break his smoking habit. Rapi's habit serves as a warning to parents—failure to say no to your kids can quickly spiral out of control.
Indonesia has one of the highest rates of smoking in the world, and child smokers are becoming a real problem. According to statistics, around 9% of Indonesians under the age of 18 smoke regularly.
In 2010, Ardi Rizal, who was also 2-years-old at the time, also made international news headlines for his 40-cigarettes-a-day habit.