Oliver Frost, aka "Oli London" has allegedly spent a small fortune on plastic surgery over the last seven years in an attempt to make himself look more like his K-pop idol.
Oli London became infatuated with K-pop icon Jimin, a member of Korean boy band BTS, the first saw he laid eyes on him in 2013, and the UK man has spent the last seven years trying to model his appearance after his idol. He was living in South Korea when he discovered BTS and like many other K-pop fans, he was "amazed by all of them". But it was Jimin who made him want to go under the knife and drastically alter his look to match that of the K-pop icon. He's been at it for over 7 years now, and he doesn't plan on stopping anytime soon.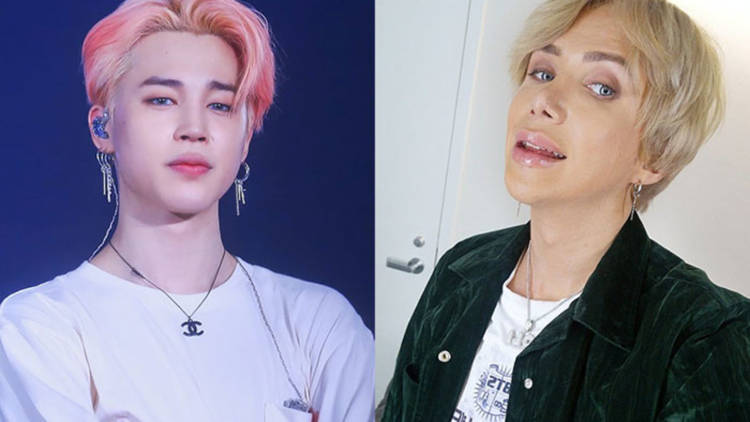 "I want my entire lifestyle to revolve around K-pop and I want my entire look to look like Jimin, the lead singer of BTS, because for me he is perfection, his jaw shape, his lips his voice, everything," Oli London told Barcroft Media a couple of years ago. "I love that kind of perfect image, they all look like dolls. They all look incredibly perfect and when I actually watch their videos I cry just because they are so beautiful."
View this post on Instagram
London started his plastic surgery journey with a nose job, but he has since had numerous other procedures done, including skin whitening and changing the shape of his eyes. The 30-year-old has changed so much that he is virtually unrecognizable from his former self.
View this post on Instagram
"I've done my nose five times. I had cheek bone reduction. I've done jaw bone surgery. I've done chin surgery – two operations on my chin. I've done my eyes. I've done my chest, I had gynecomastia, like man boobs, I had that removed and my nipples adjusted – that was painful. And I had liposuction on my chest area as well," Oli recently told English tabloid Daily Star. "Then loads of filler all the time. I had a nonsurgical brow lift the other week. I'm always doing non-surgical – injections in my eyes, eyelids, my cheeks."
View this post on Instagram
The obsessed K-pop fan believes that his insecurities about his physical appearance stem from his teenage years, when his bad acne and the fact that he had a "really big nose" made him feel depressed about the way he looked. He claims that it was then that he decided to change his look when he got the chance. Jimin and BTS just gave him something to shoot for.
"I don't want to look like a normal person, I want to look like a K-pop doll, just like Jimin," Oli London shut down his critics. "I just find them incredibly beautiful. I know I am always going to be Caucasian, I'm always going be British but I would like to look as close as possible to Korean pop stars and Jimin."