Simone Williams, a young woman from Brooklyn, New York, recently broke the Guinness record for world's largest natural afro, with her impressive 4 ft. 10 in (1.48 m) hairdo.
Simone started growing her hair naturally 9 years ago, as a way to save money on hair salon visits, ut never imagined that she would one day break the record for the world's largest female afro. She had been wearing her hair straight until then, and admits that the transition was pretty tough at first, as she didn't know how to properly manage her natural hair texture. She eventually got used to it though, and actually started comments and compliments on her "voluminous natural afro". After reading about the previous record holder, Aevin Dugas, Simone was inspired to attempt breaking the record, but she still couldn't believe it when she got the news.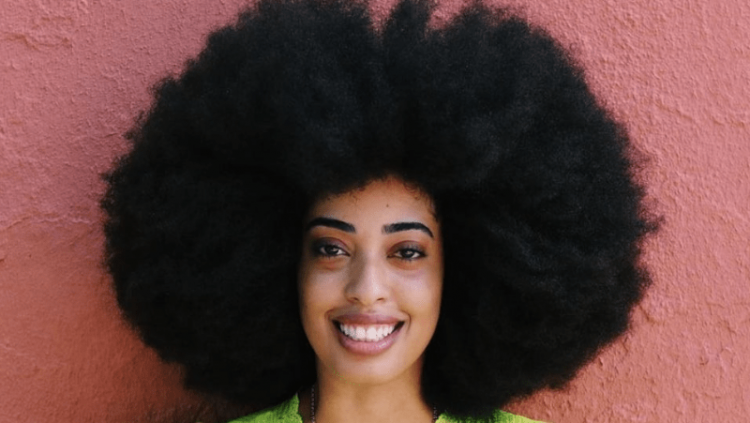 Photo: Simone Williams/Instagram
"She inspired me to make the attempt. I googled 'world's largest afro' and when she came up I was in awe," Williams said about Aevin. "At the time, I didn't think my hair was anywhere close to hers, she was goals! But I was so happy to see that she was recognized and there was a chance for others to be recognized too."
View this post on Instagram
Aevin, who held the record for a whopping eight years, was featured on OC back in 2013. Her record-setting afro measured an incredible 4 ft. 4 in (1.32 m).
View this post on Instagram
"I started getting perms or straightening my hair in middle school and wore my hair straight until college," Simone told Guinness Records. "I chose to transition [to natural hair] around the age of 23. It began because I wanted to save the money spent at the hair salon to help with the costs of moving into my first apartment."
View this post on Instagram
"When my hair is fully styled and big and voluminous I get a lot of stares, a lot of comments, lots of compliments – I want to think that everything is positive, but there are some people who stare like they have no idea what's going on or what they're looking at," Williams added.
View this post on Instagram
The Brooklyn-based record says that her larger-than-life afro is a way to celebrate her ancestry and represents a symbol of freedom and liberation. Sure, she can't really wear hats anymore, and has to watch out for low-hanging tree branches, but she wears her impressive natural hairdo with pride.
"Rocking a natural 'fro is something that really symbolizes your pride in being Black. And I feel like whenever I wear my hair very big and beautiful, I just feel that pride within me," Williams said. "For many years, Black women have been wearing their hair as it grows from their scalp as a symbol of freedom and liberation, and I too feel that freedom, liberation and confidence when I walk out the house with my natural 'fro."