When hiking in North Carolina, everyone knows that you must ward yourself against the mosquitos and other southern bugs that plague the area, but it turns out that your bug repellent might actually be attracting a much larger critter? At least if you're using the "Bigfoot Juice" created by North Carolina mom Allie Megan Webb, who claims it can attract the elusive Bigfoot while also keeping bugs at bay.
While experimenting with scents for her homemade bug-repellent, Webb discovered that there was a direct correlation between the use of her bug spray and Bigfoot sightings reported by the research group Bigfoot 911. This prompted her to make the conclusion that she had, in fact, cultivated the perfect scent to attract the elusive, some may claim mythical, creature commonly known as Bigfoot.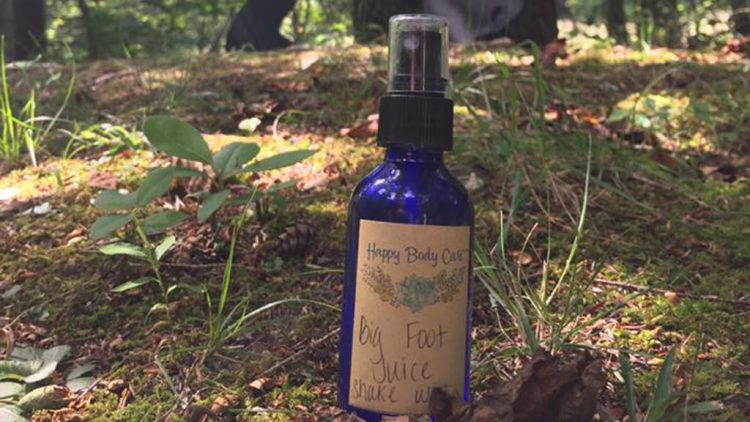 Photo: Happy Body Care/Facebook
Webb's husband, a member of Bigfoot 911 himself, was the initial influencer for the spray, after he asked his wife to make her bug spray less "feminine smelling". Webb experimented for a while before she stumbled upon what has now become the Bigfoot attractor.
"To attract a Bigfoot," Webb explained in an interview with The Charlotte Observer, "you need a smell that is woodsy enough to keep from scaring him off. But slightly different enough to make him curious, and come to investigate."
Even though field tests are still in their early stages, there has been enough concrete proof to persuade Webb, her husband, and many a loyal Bigfoot 911 members that the spray does attract the beast. When asked how she knew it worked, Webb replied "That's a tough question. I guess I could ask you how do you know it doesn't work?" I guess she sort of has a point there…
Photo: Patterson-Gimlin
If you're interested in testing out the spray for yourself, you can purchase a $7 bottle directly from Allie's Happy Body Care shop, in Marion, North Carolina. Did we mention the spray still acts as a working bug-repellent and is environmentally friendly?