How far would you go to achieve that extreme hourglass figure you've always dreamed of? How about wearing a tight corset around your waist for 23 hours a day?
When Navy veteran Diana Ringo, 39, of Chula Vista, California gave birth to her twins three years ago, she felt that the loss of her curves had masculinized her once feminine figure. Diet and exercise alone weren't giving her the desired results, and so she turned to waist training. She now wears a tight corset 23 hours day, only removing it to shower or work out. The mother-of-three currently has an 18-inch waist to show for her efforts, down from her post-birth 27-inch waist.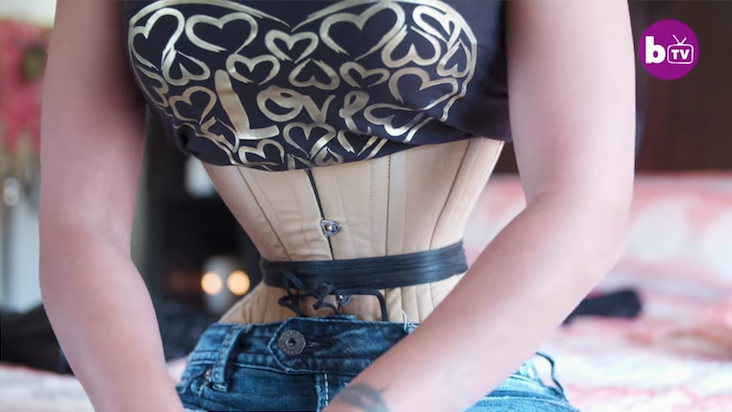 Photo: Barcroft TV video screengrab
"When I have my corset on, it makes me feel so sexy. I naturally felt so sexy but it just boosted my self-esteem a lot more, it just makes me feel good," Ringo told Barcroft TV's Hooked on the Look. "I wasn't happy with my body before because I was fat. There's nothing wrong with being fat but my fat does not distribute in a feminine way. It distributes as if I have a male body type and I don't like that shape."
Ringo, who now works as a Navy chef, has a collection of over 45 corsets valued at $1,955 to help maintain her hourglass figure.
"When I don't have the corset on it feels like when you take off your bra. You get a little bit of, like, relief I guess is the right word, but you want to put it back on because you're just used to it by now."
"Right now I weigh between 118-120lbs (eight stone)," she added. "My dress size is around 2-4, but I have to take in the waist because I really like to show what I have accomplished even though I sometimes get dirty and wtf looks."
In the beginning, Ringo's husband Brett, a 33-year-old Navy officer, was concerned about her strict waist training but has since come to terms with her decision. He does, however, has some reservations and doesn't want her to go any smaller.
"'I was concerned with her health at first when I came back from deployment. That's when I asked her to go see a doctor," Brett told Barcroft TV. "So, she went to get checked out, and the doctor said, 'everything is good.' I don't think she has taken it too far. We did agree that this was the kind of baseline. We have an agreement that she is not going to get any smaller."
"The training has increased her self-confidence. They always say happy wife, happy life. So, this makes her happy," he added.
Although Ringo claims that she has not experienced any adverse health effects or complications, waist training is considered by medical professionals to be a dangerous activity that can cause organ and spinal damage when practiced over long periods of time. Practitioners are also at risk of digestive issues caused by the restriction to the abdomen, a prolapsed uterus, especially if worn during pregnancy, and atrophy of the lower back muscles which leads to lower back pain. These are only some of the many health risks involved in the practice.
"Ultimately I will do what I want," Ringo said. "I am a grown woman, and I pay taxes. Most importantly I do what makes me happy because if I am, then he will be too," the woman added. "This is important to me because it makes me feel good. It makes me feel sexy, and I mean if I feel good and I'm happy, I go with that."
Diana is certainly not the only one willing to wear a corset virtually at all times in order to maintain their curvy figure. In 2015, we wrote about Venezuelan model Aleira Avendano, who also wore a corset for 23 hours a day to maintain her 20-inch waist. And in 2013 we wrote about Michele Koebke who was gradually putting on tighter corsets in order to achieve the world's tightest waist.