Copa Ataúdes or Coffin Cup, a yearly futsal tournament hosted by the Peruvian city of Juliaca, has been dubbed the world's most depressing sports competition for offering coffins as prizes to the three best teams.
The Juliaca Coffin Cup is not your usual futsal tournament. It's a competition between teams representing the twelve largest funeral houses in the  Puno Region of southeastern Peru, so it kind of makes sense that the main prizes be something representative of the funeral business. Still, fighting your heart out on the pitch for an expensive casket you have to share with five other teammates doesn't exactly sound worthwhile. That didn't stop the winning team from parading their $1,300 luxury coffin on their shoulders and singing "Olé, olé, campeon!" at the end of the final match, though.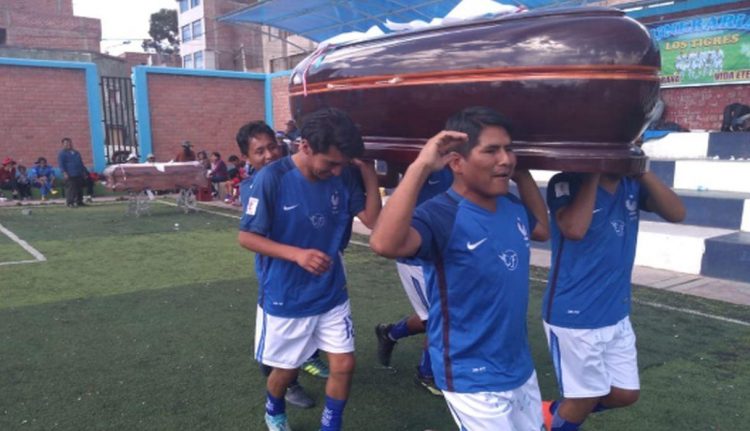 And as if playing for coffins wasn't depressing enough, the 12 teams competing in Coffin Cup 2019 also chose some thematic names for themselves, like "Last Goodbye", "Eternal Dream", "Rest and Peace", "Los Angeles" or "Road to Paradise".
The top prize for the winning team was a luxury coffin valued at 4,500 thousand soles (about $1,300) while the second and third place teams received cheaper models. Organizers declared themselves proud of being the first to offer coffins as prizes in a sports competition, and promised to put even more expensive ones on the line next year.
"I want to thank God. Never at an international level has there been an inter-hospitality championship with coffins as prizes," a Coffin Cup official told reporters.
No word on how the members of the three best teams plan to split their prizes, but I'm guessing they'll just sell the coffins and split the cash.