Abdussalam Firdaus Abdul Aziz, a 22-year-old man from Malaysia, recently became an overnight internet sensation thanks to his feminine features that apparently make it hard for people to tell whether he's male or female.
Photos of Aziz have been doing the rounds online ever since it was reported that at a recent soccer game that he attended, he was asked to show his identification documents, because male security guards refused to do a body check on him, thinking that he was a woman. The story made news headlines in Malaysia earlier this week before transcending national borders via the internet.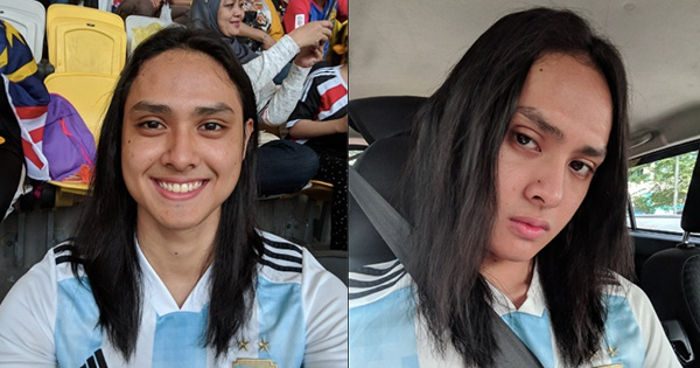 Photos: @amlegend77/Twitter
"The police didn't believe me when I told them that I'm a man. So they asked me to show my identity card," the 22-year-old told mStar. "I had to prove my gender as the male police need to do body checks on the male fans for safety reasons while the female police checked on the female fans."
View this post on Instagram
I guess those security guards didn't notice the man's Adam's apple, but Aziz didn't mind showing them his ID, adding that he's had this kind of problem before. A few years ago, he decided to cut his hair shorter to make himself look less feminine, but people started calling him a "tomboy" so he just let it grow back.
View this post on Instagram
One Twitter user advised Abdussalam to grow a mustache or a beard to make his gender obvious, but the 22-year-old replied that he had tried to do just that, but his thin mustache made him look like a human "catfish".
View this post on Instagram
Aziz's photos have received thousands of likes and comments on multiple social networks and many are calling him the "world's prettiest man". And to think his overnight fame came completely by accident.
View this post on Instagram
"I didn't even plan to go to the game, but my friend happened to have more tickets and asked me if I wanted to go," the young man said.
View this post on Instagram
View this post on Instagram
View this post on Instagram
And here's his attempt at growing a mustache:
View this post on Instagram
Aziz's rise to internet fame seems very similar to that of Idegami Baku, a Japanese man who also broke the internet with his incredibly feminine looks.