A 25-year-old woman from Poland has been left completely blind in her right eye and with eyesight complications in the left one after having her eyeballs dyed black by a tattoo artist in order to make herself stand out.
Aleksandra Sadowska's tragic story began four years ago, when the young girl from Wroclaw, in western Poland, decided to get her eyeballs dyed black. She searched online for someone who could do the procedure, and found a willing tattoo artist from Warsaw. Although the tattoo artist, referred to by Polish press as Piotr A., appeared to know what he was doing, he allegedly didn't know his craft very well, which led to a botched dying procedure. Aleksandra started complaining of severe pain in her eyes shortly after the procedure, but the tattoo artist allegedly told her that it was normal and recommended that she use painkillers to cope. Unfortunately, her situation was much more serious…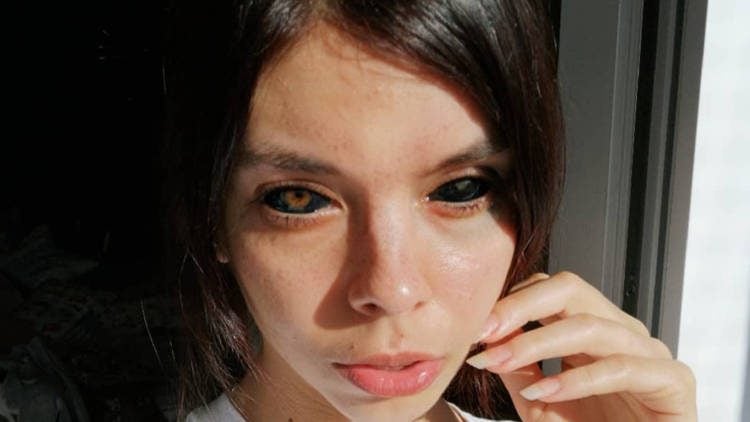 Photo: anoxi_cime/Instagram
According to a 2015 article in Polish newspaper Fakt, the tattoo artist inserted the needle too deep into Aleksandra's right eye, which allegedly caused her to go completely blind in that eye not long after the procedure. Her left eye wasn't fairing much better either, but at least the dye didn't reach the sclera, so she was still able to see, albeit not as good as before. However, doctors told her that there was no way of knowing how her vision would be affected in the future, and in a recent article in the Daily Mail, the now 25-year-old revealed that doctors' prognosis wasn't optimistic.
View this post on Instagram
"Unfortunately, for now doctors do not give me much optimism for improvement. The damage is too deep and extensive. I'm afraid I will be completely blind," Sadowska said.
View this post on Instagram
In 2015 alone, Aleksandra Sadowska underwent several corrective surgeries to save her right eye, but the procedures were unsuccessful, and ophthalmologists couldn't promise her that she would be able to see with her left eye for very long either. So called productive changes had appeared under the conjunctiva and the optic nerve was damaged as well, which suggested that the toxemia, or toxin poisoning of the eye was extensive.
View this post on Instagram
The Daily Mail reported that the tattoo artist had used ink designed for tattooing the human skin when dying Aleksandra's eyes, but the English tabloid also claimed that the young Pole underwent the procedure to emulate Polish rapper Popek, which was actually just a rumor dismissed by press in Poland. I was unable to find anything about the nature of the dye used while researching Polish articles.
View this post on Instagram
One thing is for sure, Aleksandra Sadowska sued the tattoo artist who performed the procedure, and he is now facing three years in prison for unintentionally severely disabling the woman. He has only now been charged for this alleged crime, and the court case is expected to start soon.
View this post on Instagram
Despite facing complete blindness as a result of dying her eyes black, Alecksandra told Polish reporters that she does not regret her decision. What she regrets is choosing the right person to perform the procedure. As for the future, she declared herself optimistic.
"I will not lock myself in the basement and get depressed. I have sadness behind me, but I live on," the 25-year-old said.