Ed Stafford, a former British Army captain and renowned adventurer recently embarked on a 60-day challenge that saw him sleeping on the streets of various cities in Britain. His experiment was meant to highlight the plight of homeless people, but he was shocked to find that begging can be more lucrative than he had ever imagined.
Stafford, who is known as the first person to walk the entire length of the Amazon river, spent 60 days sleeping on the streets of cities like London, Manchester and Glasgow, and observing the lifestyle of real homeless people for a TV documentary soon to air on Channel 4. Although the adventurer admits that he did observe drug addiction problems among the homeless and heard some truly heartbreaking stories from them, what really shocked him was  how much money some of these beggars made – up to £200 ($260) a night – and the amounts of free food they received from passers-by and volunteers.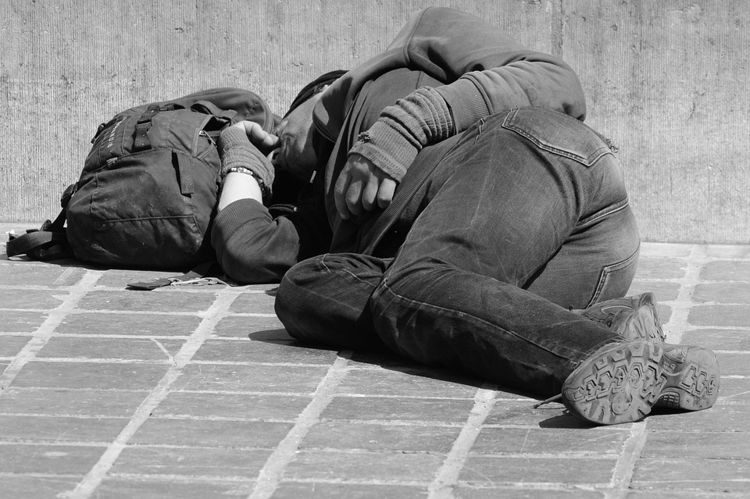 Photo: Ben Kerckx/Pixabay
"Begging seemed to be more lucrative than I ever imagined. It was common in London for people to make £100 or £200 in an evening, which is more than the average person earns in work," Stafford said, adding that one homeless beggar told him that if he didn't make at least £100 per night he would be "gutted".
Food didn't seem to be an issue on the streets either. The British adventurer confessed to being afraid of losing so much weight during his 60-day challenge that it would be hard to physically survive, but at the end of his two-month challenge he had put on 11 pounds. Apparently, in every city he visited, there was an abundance of people willing to offer the homeless free food.
"In Glasgow, I witnessed 26 volunteers handing out food one night, and there were only two rough sleepers there. I even met one homeless man who complained the public 'overfeed' him," Stafford said. However, the adventurer admitted that it wasn't the healthiest food available, mostly fast-food and sandwiches. Still, the amount of food available brought out the cynic in him:
"I wouldn't give directly to homeless people any more, sadly. I think there is plenty of food available for them, and so a lot of any cash they get is spent on drugs and alcohol."
Many accused Ed Stafford and Channel 4 of exploiting homeless people and painting a false picture of life on the streets, but the adventurer made it very clear that his experiment was just that, and doesn't really compare to full-time homelessness. He didn't really spend that much time on the streets, and he always knew in the back of his mind that he had a home and a family to go back to.
Some of the hardships Stafford had to endure during his 60 days on the streets includes having to sleep in doorways, washing himself with water from a toilet after going a week without showering or finding his bags soaked by a street cleaner. He heard even worse stories from real homeless people, like being urinated on while they slept or having their bags slashed or set on fire.
But Stafford claims that despite all the hardships most homeless people deal with on a daily basis, he can understand why some of them actually prefer this lifestyle.
"You can do whatever you like when you like. You have got the fresh air, the social interaction with other homeless people. You get used to it," the 43-year-old adventurer said. "Sitting up against a wall, observing people, not having to follow any rules, it's kind of what I do now. People talk about getting slightly addicted to the freedom, to the outdoor living on the streets."