If we were to make a global top 100 ice cream flavors list, hot-dog probably wouldn't make the cut, but that hasn't stopped American processed meat giant Oscar Mayer from announcing the launch of a hot-dog-flavored ice cream sandwich.
Shaking up the hot-dog scene seems like a tall order, but Oscar Mayer is willing to try with its soon-to-hit-the-shelves hot dog ice cream sandwich. Made up of sweet hot-dog cream, candied hot-dog bits, and spicy Dijon mustard gelato, all squeezed between two soft cookie buns, the upcoming treat is advertised as the best way to enjoy a hot-dog in ice cream form. It's not clear if this is just a one-time marketing stunt or a permanent addition to the Oscar Mayer family of products, but one thing is for sure, hot-dog ice cream sandwich is a real thing.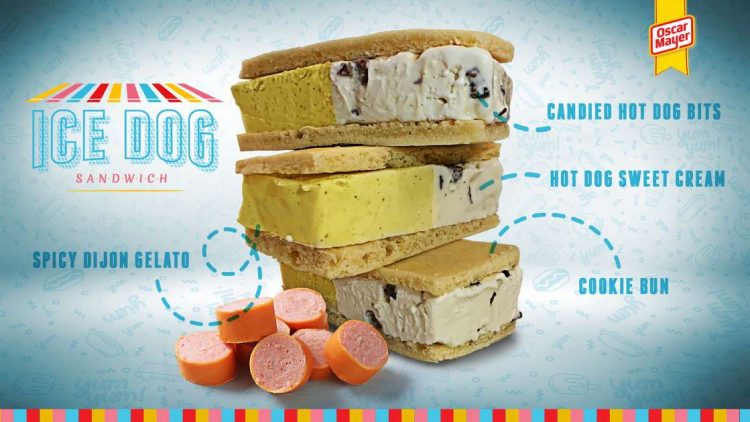 Photo: Oscar Mayer
People Magazine reports that Oscar Mayer partnered with New York City-based ice cream company Il Laboratorio Del Gelato to work out the details of transforming the classic hot dog into an ice cream,  and will share the fruits of their labor with the world come August 12, when the "Ice Dog Sandwich" is finally launched.
Who eats just mustard @Frenchs? Condiments were made for Oscar Mayer hot dogs. Say hello to the Oscar Mayer Ice Dog Sandwich – 🌭 flavored ice cream, made with our better hot dogs, sandwiched with spicy mustard 🍦. Do you want to try this? Coming in August🔥 #OscarMayerIceCream

— Oscar Mayer (@oscarmayer) August 1, 2019
Coincidentally, Oscar Mayer's Ice Dog Sandwich follows another announcement from condiment producer French's, which recently announced a tub of mustard-flavored ice cream as its own original summer product. In fact, the two companies actually mentioned each other in promotional tweets, and for good reason, it's like these two bizarre summer treats were made for each other.
To promote the Ice Dog Sandwich, an iconic Oscar Mayer Wiennermobile, this time disguised as an ice cream truck, will drive around Manhattan during the week of August 12 offering free samples.