Tsunaina is a young Tibetan model whose unconventional beauty has taken the fashion world by storm. Her beautiful eyes, luscious lips and chiseled jawline can only be described as striking, but it's the unique structure of her nose that really catches people's attention. From the front, it looks unusually wide and flat, and some people have even gone as far as to compare Tsunaina's looks to that of the Na'vi women from the 2009 blockbuster Avatar.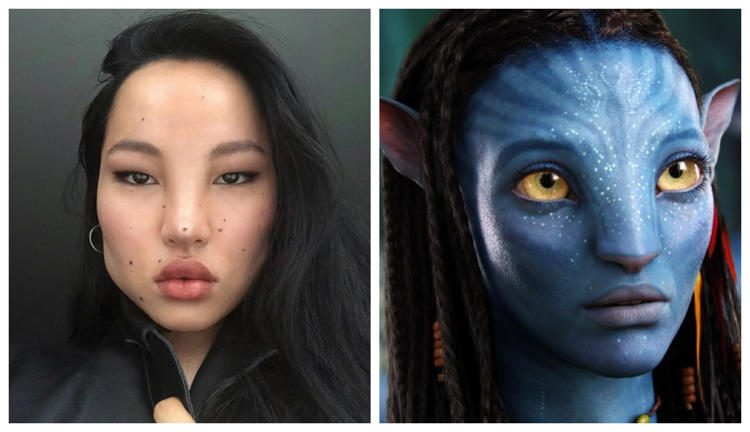 Photos: Tsunaina/Instagram – 20th Century Fox
Born in Tibet but currently living in the UK, Tsunaina was reportedly scouted on the street by a modelling agency. Standing at just 5.5 feet, she doesn't really fit the strict height requirements of the modelling industry, but her look was so intriguing that they decided to take a chance. And you could say that their bet paid off, as the stunningly beautiful woman has since walked the runway at events like London Fashion Week multiple times and has modeled fro high-profile brands like Christian Dior.
Tsunaina's unconventional beauty has been making waves both offline and online. Even though she doesn't post nearly as often as other models or social media stars, she has nearly 200,000 fans on Instagram, and photos of her recently went viral in China, which is how I discovered her. Actually, it was on Vietnamese site that linked to a Sina Weibo page, but I digress. The point is that everyone seems to be mesmerized by Tsunaina's looks, and it's no wonder that fashion publications like Whitelies have put her on the "models to watch" list.
I think ELLE India said it best in their article on Tsunaina's looks: "Even if you're more inclined to conventional features, there's no denying that the her unconventional beauty is so interesting, it's captivating." Couldn't have said it better myself.
ELLE appears to have been the first to mention Tsunaina's resemblance to the female inhabitants of Pandora, but her fans have since spotted it too. And they love it!
"Avatar is literally my favorite movie of all time and bc you resemble the beautiful lead avatar you are now my favorite person of all time." one of Tsunaina's Instagram followers commented.
"Avatar yes!!! Your face is so intriguing. So interesting and of course perfectly beautiful." another fan wrote.