Located in Havana, Cuba, Coppelia Park is the world's largest ice cream parlor. Also known as the 'Ice Cream Cathedral, it serves around 30,000 customers per day and up to 600 at a time.
Built in 1966, Cuba's 'Parque Coppelia consists of a two-storey domed pavilion inspired by Oscar Niemeyer's iconic Cathedral of Brasilia outside which people queue for ice cream every single day, and a lush park complete with hundreds of tables where up to 1,000 people can enjoy the frozen treats at a time. The story goes that Fidel Castro ordered the building of Coppelia Park shortly after the success of his Communist revolution. He reportedly ordered twenty-eight containers of ice cream from American producer Howard Johnson's, and upon tasting it decided to respond by creating something bigger and better, but cheap enough that anyone could afford. His idea was a huge hit, and to this day thousands of people continue to enjoy subsidized ice cream at Coppelia Park, the world's largest ice cream parlor.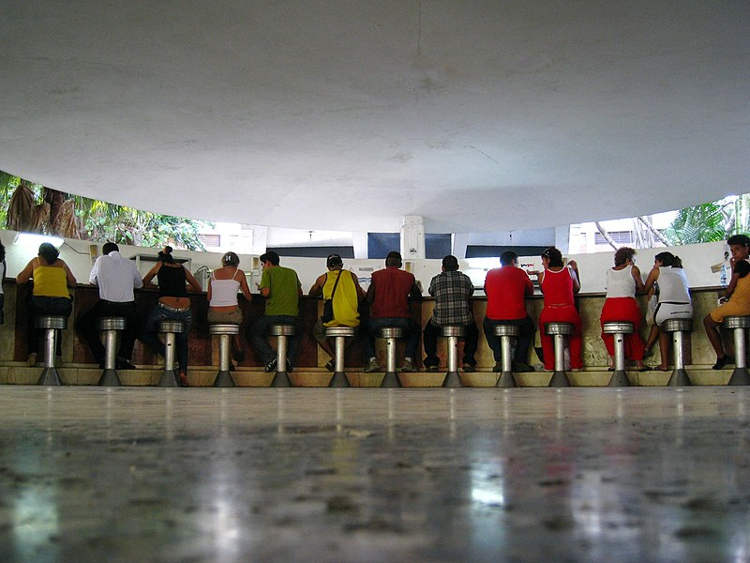 Photo: Bit Boy/Flickr
"Before the revolution, the Cuban people loved Howard Johnson's ice cream," Fidel Castro famously told a visiting journalist shortly after the inauguration of Coppelia Park. "This is our way of showing we can do everything better than the Americans."
There was a time when even some visitors in the U.S. conceded that Coppelia Park was serving the best ice cream in the world. It came in dozens of different flavors – 26 of them at the height of the parlor's popularity – was routinely shipped in dry ice to Communist dignitaries around the world as a sign of Cuban pride. Unfortunately, the fall of the Soviet block had dire consequences on the Cuban economy, and the ice cream cathedral was not spared either.
Unable to reach dairy self-sufficiency and with its supply chains for butter and powdered milk cut off, Castro's Cuba had to choose between butter and ice cream. It chose the latter and reduced butter rations. It was the most populist move, and the most obvious one in a country where people were addicted to the frozen treat. Coppelia didn't serve as many flavors, but everyone could still enjoy subsidized ice cream here anytime.
Even today, the world's largest ice cream parlor remains extremely popular in Havana. It's the place most children celebrate their birthdays, where couples go on first dates, and it's also one of the Cuban capital's main tourist attractions. And for about 5 Cuban pesos (¢20)per scoop, it's definitely worth a visit.