Alberto Gutierrez Giron has been living alone in the mountains of Nicaragua for nearly 40 years, sculpting a 300-foot long cliff into a giant artwork, just like the one he saw in a dream, when he turned 9-years-old.
Popularly known as the "Hermit of Nicaragua", "Stone Man" or "Sculptor of the Mountain", Alberto Gutierez claims he was born on October 17, 1944 – although he doesn't have a birth certificate anymore – in a village near Esteli City. He had always loved exploring the forests around his home, and at age 33, he decided he wanted to live his whole life surrounded by nature, creating an epic stone artwork he had dreamed of as a young boy. He had been thinking about it for years, but during the war that swept Nicaragua at the time, it seemed like the perfect opportunity to get away from it all.
Alberto Gutierrez spends around three hours a day chiseling away at a giant rock near his wooden hut, in Tisey Estanzuela Natural Park, and in the last four decades he has managed to shape it into an eclectic sculpture, featuring all kinds of elements, from animals like elephants and cheetahs, to a model of the Esteli Cathedral and even the Twin Towers of New York City. What's even more remarkable is that the elderly hermit claims that his giant sculpture is just like the one he saw in a dream nearly 70 years ago.
It was on his ninth birthday that Alberto had the dream that ultimately inspired his extreme lifestyle change. He had spent the day playing outside and when he came home he just crashed into a heavy sleep and dreamed that he would sculpt a mountain. The image was so vivid that t stuck with him through the years, and when he first discovered the 300-foot rock atop El Jalacate Mountain, overlooking the Tisey Estanzuela reserve, he knew it was the place he had seen in his dream.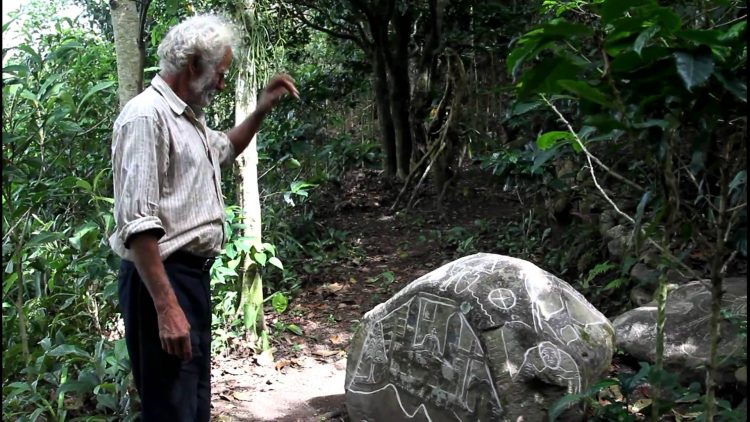 Photo: YouTube video screengrab
During the 1970s, when the revolution was sweeping Nicaragua, he refused to fight for either side, instead traveling the country doing all sorts of work. In 1977, while working in a port, he found a rock and some nails that looked like chisels, and immediately recalled the dream he had as a child. He decided to go back to El Jalacate to finally start work on his epic sculpture. He arrived at the place that would become his permanent home in October 1977, and immediately started working on his sculpture.
Alberto Gutierrez lives in a small wooden hut he built himself. He doesn't have access to running water, sleeps on an improvised bed on a dirt floor and lives off the land. He also doesn't understand modern concepts like the internet, even though it has made him one of the most famous hermits in the world.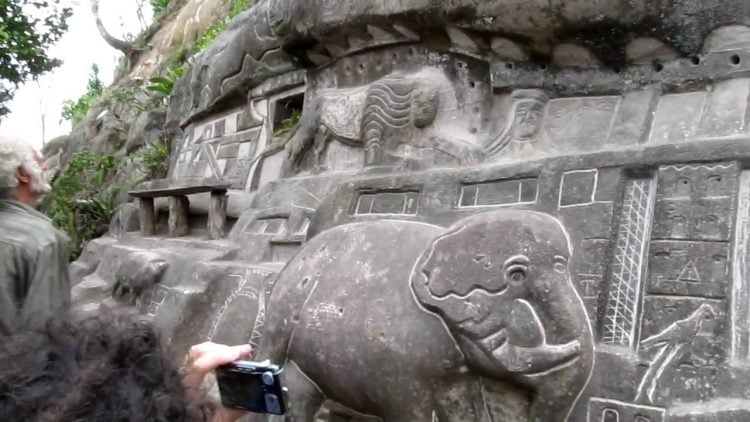 Photo: YouTube video screengrab
The Nicaraguan man says that it was his dream to cut off contact with the rest of civilization completely, but he allowed himself to be spotted by people visiting the Tisey Estanzuela Natural Park, and word of a hermit living all by himself in the wilderness started spreading in the area. As tourists arrived to see the natural wonders of the area, they heard the story of this elusive character who spends his days sculpting a mountain, and many of them came to visit him. They took photos of Alberto, his home and his life's work and posted them on their travel blogs, and the Hermit of Nicaragua became a popular tourist attraction.
'Just how popular can a hermit actually be?' you ask. Well, suffice it to say that the tourism authority of El Tisey brought him to Esteli City a few years back, to offer him an honorary plaque and thank him for promoting the region as a travel destination. Gutierez himself says that he has been visited by around 30,000 people in the last decade alone, which sounds very impressive for anyone, but especially so for a hermit.
Alberto has become accustomed to tourists and has even placed dozens of signs pointing to his home, to help people find him more easily. He always takes the time to share his life story and showcase the 300-foot sculpture he has been working on for 40 years, and he has become proud of having received visitors from all corners of the world.
Gutierez never married and has no children, but he doesn't feel lonely. This was the lifestyle he dreamed of, and if a day goes by that he doesn't receive visitors, he just talks to the birds. They've always been there for him and they are very good listeners.
Sources: Radio La Primerisima, La Prensa, Expert vagabond