A Brazilian adventure firm is offering thrillseekers the unique opportunity to enjoy a picnic at a wooden table suspended above the thundering Cascata da Sepultura, in the state of Rio Grande do Sul.
The breathtaking experience recently went viral thanks to a short clip posted by an American couple who found it while looking for special things to try in Brazil. In the video, Christianna Hurt and her rapper boyfriend 'OnPointLikeOp' can be seen casually enjoying some snacks and a glass of red wine at a picnic table suspended on a bunch of metal wires high above Cascata da Sepultura. The whole experience apparently lasts only 15 minutes and costs $450, but it's definitely something you'll never forget.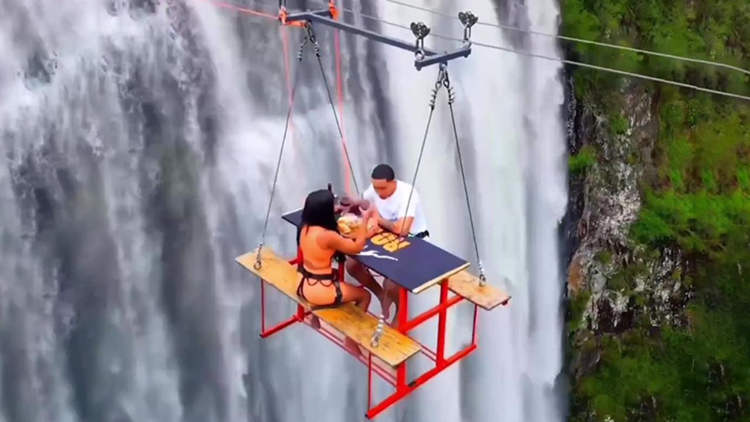 "It's only about a 15-minute experience total… the experience is more about the scenery, not the food," Christianna told Mail Online, adding that she and her partner had to drive a four-by-four to reach the waterfall, which is around an hour's drive from the town of Caxias do Sul, before walking through a river to reach the zip-line platform built into the edge of the waterfall.
The two were strapped into safety harnesses and seated at a picnic table secured to a sturdy zip line. The table was then rolled out over the thundering waterfall where the couple unpacked their food and drinks. A photo op and drone video was also included in the price of the experience.
Despite the incredible location, most of the thousands of people commenting on the footage admitted that they would be too busy panicking to enjoy a picnic so high above Cascata da Sepultura.