Taylor Muhl, a model and singer from California, often says that she is her own twin, and as strange as that sounds, she means it quite literally. The 33-year-old was diagnosed with genetic Chimerism, an extremely rare condition explained as "an organism composed of cells from different zygotes".
As a child, Taylor was obsessed with twins, constantly asking her mother if she had a twin sibling, and playing twins with her girlfriends, but little did she know that she actually was her own twin. Doctors say that the model absorbed her fraternal twin while in the womb, and parts of its DNA now exist in her body, making her a Chimera, of which there are only 100 known cases in the whole world. But even as a human Chimera, Taylor's case is a rare and fascinating one, because while most Chimeras only display the symptoms internally or have very small skin marks, Muhl's stomach is split down the middle into two skin tones.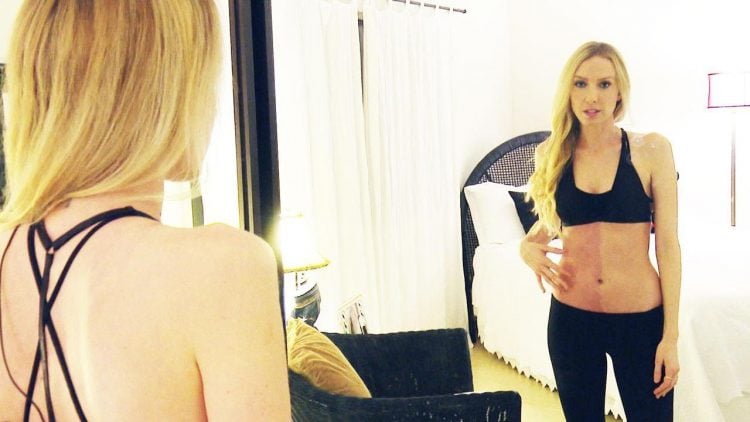 Photo video screengrab/The Doctors
Taylor only learned that she might be suffering from Chimerism in 2009, after watching a TV documentary on the incredibly rare condition. Up to that point, she had thought that the darker side of her stomach was just a large birthmark, but that all changed when she saw a baby with a very similar symptom that had been diagnosed with Chimerism.
"I fell out of my chair," Muhl said. "There was a baby who had the same line as I did," Taylor told Daily Mail. A week later, she visited a throat doctor who had happened to work on Ripley's Believe It or Not cases, and she mentioned her suspicion. Following a series of tests, she was officially diagnosed with Chimerism, which helped explain the many allergies and immune flare-ups she had experienced throughout her life.

"I have two different immune systems, and I have two different bloodstreams," Muhl told The Doctors. "My body treats my sister's DNA and cells as foreign matter and wants to get rid of them, but it can't."
Because of the two different immune systems, Taylor Muhl is allergic to certain metals on one side of her body, but not the other, and she is more affected by a bout of flu than a regular person, because both of her immune systems are weakened while constantly fighting each other's cells.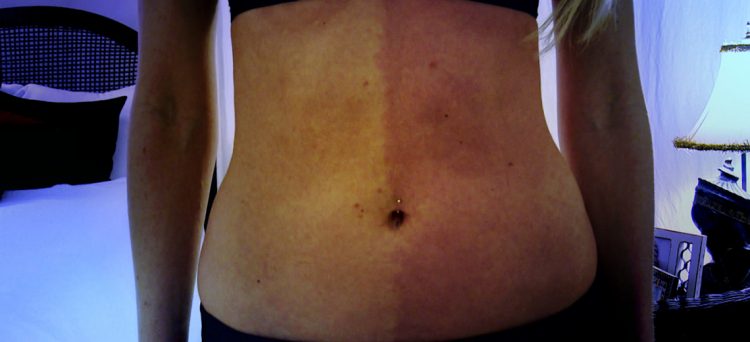 Photo video screengrab/The Doctors
The double set of DNA can cause abnormal results on medical tests, which is why it's very important that people diagnosed with Chimerism report this every time she gets her blood tested.
"It's important for Taylor throughout life to inform doctors that she has Chimerism, so when they get these strange test results back they know how to quickly interpret them correctly. This may save her life," Dr. Brandon Colby said.
Muhl had kept her two-tone stomach a secret until now, covering it up as much as possible, and asking photographers to edit their work in Photoshop, but she recently decided to reveal her rare condition in order to inspire people to feel good about themselves, despite being different.
"I had always kept my stomach a secret, covering it up or having photographers Photoshop it out," Taylor said. "But now I want to embrace the way I look. I want to inspire people to feel beautiful and confident with their difference."