With prices starting at 25,000 euros per bottle, AurumRed Gold is considered the world's most expensive wine. It is made from Tempranillo vines that have to be at least 100 years old, using a mix of modern and traditional techniques, but what really sets it apart from other wines is the use of ozone therapy, an alternative medicine treatment generally used to treat cancer, AIDS, multiple sclerosis and more.
Hilario Garcia, who produces the AurumRed Gold wine on a small vineyard in La Mancha, Spain, became familiar with ozone therapy after using it to ease a condition of the spine that had left his lower body paralyzed. After experiencing success with the treatment, he decided to experiment with it in his lab, and attempt to apply it to winemaking by ozonating the water that irrigates the vines. Ozone therapy is merely the increase of oxygen in the body through the introduction of medical grade ozone, which is a highly reactive form of pure oxygen.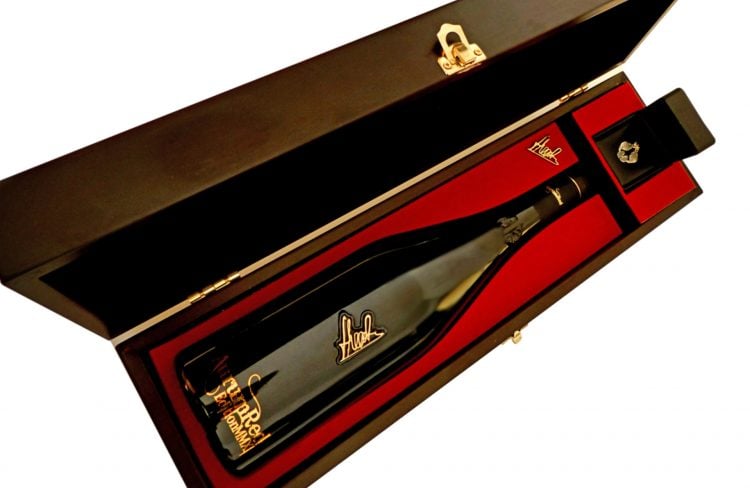 Photo: Aurum Wine
"I verified that you can apply this type of techniques that are used to treat diseases or veterinary applications in the world of plants, and in the vineyards, in order to control pests, " Garcia said in an interview with CincoDías.
The objective of this project, which started in 2009 in Las Pedroñeras, was to achieve healthy and balanced wines. He carefully selected the land to grow the Tempranillo, Cabernet Sauvignon and Sauvignon Blanc vines after much soil and water testing. Garcia has also integrated the use of "pyramidal energy" into his winemaking, with several pyramid structures covering the vines. He told Gilbert & Gaillard that "it is of utmost importance that no one in a bad mood come close to the vines since this bad feeling is passed onto the plants."
According to Garcia, his techniques have created a bottle of wine like no other. He claims that turning the glass one way will bring about aromas, flavors, and textures in the wine that will change immediately when the glass turns the other way. He also claims the once uncorked the bottle will retain its freshness and flavor for another two years. How he achieves any of this, however, is a mystery as Garcia refuses to reveal his process.
Another explanation for the high price is the wine's scarcity. From each vintage of the Gold Series, only 300 bottles come out onto the market, as the wine comes from 250 centenary vine stocks. Of these, 150 bottles are reserved for regular buyers and the rest are kept at his vineyard, for potential customers who want to come and try it. Only 30% of AurumRed Gold is sold in Spain, with the rest going to customers abroad.
While the ozonation and scarcity seem to play a big part in the staggering price tag of AurumRed Gold, Garcia claims that it is in fact, the market that has set the price. After first offering the 2009 vintage of his premium wine for "only" $4,000 a bottle, prices in China quickly jumped to $17,000 and have been growing ever since. The cost is incredible considering that Wine-Searcher's most consistently expensive wine, the Henri Jayer Richebourg, costs $13,309 a bottle. Interestingly, Spain isn't exactly known for having absurd wine prices, as its second priciest wine, Pingus, has an average price of 816 USD on Wine-Searcher.
Garcia does make a few other wines that are more accessible to the average wine enthusiast. His AurumRed Silver Edition sells for $450, and the AurumRed white, made from Sauvignon Blanc, goes for a mere $15 a bottle.