Hermien, a plucky cow from Lettele, in the Dutch province of Overijssel, recently became a social media star and a symbol of freedom, after making a daring escape just as her owner was trying to load her on a truck bound for the slaughterhouse. Named after her owner Herman Jansen, the cow initially escaped with her sister, but sadly the latter was recaptured after being shot with a tranquilizer gun. Hermien, however, managed to hoof it to the nearby woods in northern Friesland where she has been living on her own for the last six weeks.
Much to the delight of her fans on Twitter and other social networks, Hermien has somehow managed to evade all attempts at recapture. A slew of hashtags like #JesuisHermien, #GoHermien, and #MeKoe have been trending on Dutch social media site in recent weeks. 'Koe' is the Dutch word for Cow, making the #MeKoe hashtag a play on the now famous #MeToo movement. The bold bovine has even won the hearts of Dutch royalty, with Pieter van Vollenhoven, the son-in-law of former Queen Beatrix, tweeting "we've got to save Hermien, let's all buy her together and give her freedom".
Photo: YouTube screengrab
A crowdfunding campaign has now accomplished precisely that. The Party for the Animals (PvdD), a Dutch political party, has managed raise €48,000 that will go toward ensuring that the three-year-old red Limousin cow. lives out the rest of her life in peace, at a retirement home for cows in Friesland. The only problem with that plan is that someone has to recapture Hermien first.
The clever cow has already proven very elusive. She hides out in the woods all day, only coming out after nightfall, and only after making sure that there's no one lurking around. If she senses danger, she's more than happy to stay in the woods, grazing to her heart's content. At some point, hunters were considered as a solution as well, but the risk of accidentally shooting a human hiker, and the fact that the hunters would have to hit the cow right between the eyes, doomed that plan from the beginning.
"She has been running free for six weeks now, and you can count on her being very shy, apprehensive about every person that comes close to her," Bert Hollander of the Koeienrusthuis, a home for retired cows, told the NL Times.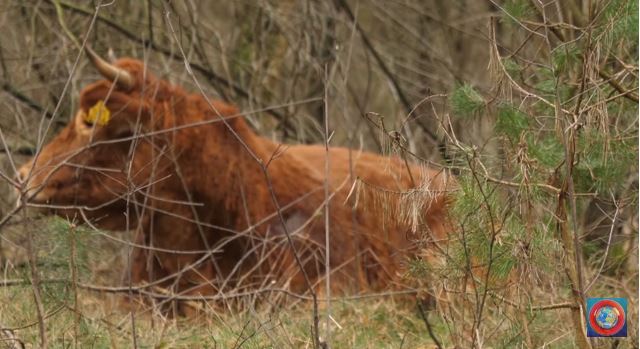 Photo: YouTube screengrab
Dutch veterinarian Edo Hamersma told AFP that "she must have been stressed at the moment she was walking into the truck for the abattoir. Since then we haven't been able to catch her."
Hamersma added that the best approach would be to leave Hermien alone for a few weeks to calm her nerves, and then use other cows to lure her out. Apparently, all it takes to lure a cow out of hiding is other cows, as their herding instincts are too strong to fight.
"We'll have to leave her alone, and wait for better weather when the herd goes out into the fields. Then she'll probably approach them by herself."
Interestingly, Hermien became famous around the same time as news broke out about a cow hanging out with a herd of bison in Poland. She too was a Limousin cow, and had escaped from a farm to experience life in the wild. Both of them are currently still on the loose.