Vaguito, a dog who spends his days on a beach in Punta Negra, Peru, waiting for his fisherman owner to return from his last fishing trip has melted the hearts of millions around the world.
Vaguito's heartbreaking story was made public by Jolie Mejía, a Peruvian woman who happened to be walking on the coast of Punta Negra, one of the districts of Lima Province, when she noticed a dog staring pointedly at the ocean. The animal looked clean and well-fed, so Jolie assumed that his master would come back to get him. She spent minutes petting the dog and talking to him, but no one came. Eventually, a man walked by, who, noticing the concerned look on the woman's face, proceeded to tell her the animal's sad story.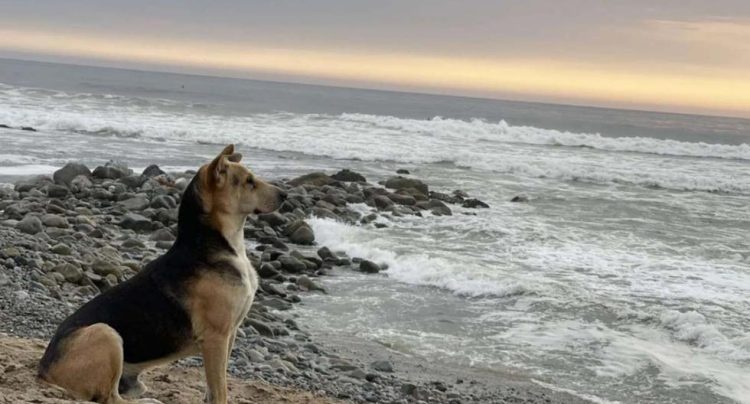 Photo: Facebook
Apparently, Vaguito is well known and beloved by everyone in the area. He now lives in a house not far from the coast, with a woman who takes good care of him, but he used to belong to a fisherman who died at sea years ago. The dog, who used to accompany his master everywhere, saw him depart on his last fishing trip and is still waiting for him to return.
"He told us that the dog had lived with a fisherman who passed away some time ago, and that, since then, he comes here every day and looks at the sea, waiting for him to come back," Jolie Mejía wrote in a Facebook post that has since gone viral.
The man told Jolie that everyone in the area knew Vaguito's tragic tale and that he always goes home after staring at the ocean for a few hours. But he always comes back the next day…
The photo of Vaguito longingly staring out into the ocean went viral on social media, and was then picked up by several major South American newspapers, including El Confidencial and La Vanguardia. His touching story has now spread into western media as well and continues to melt people's hearts.
Vaguito is just the latest example of canine loyalty we've featured on Oddity Central over the years. For more tear-jerking, check out the story of Capitan, the German shepherd who visited his dead owner's grave every day for 10 years, Xiongxiong, aka the Chinese Hachiko, who waits for his owner at a subways station every day, or Leo, a dog who has been waiting for his owners in the same spot for 4 years.