We've featured several heartbreaking stories of faithful canines waiting for their owners in the same spot for years at a time, never to see them again, but this is one of those rare stories with a happy end. After spending four years waiting for his human masters, a lost dog in Thailand was finally reunited with them thanks to social media.
The story of Leo, a stray dog who has spent the last four years of his life waiting at an intersection in the Thai city of Khon Kaen, went viral at the beginning of this month, after a Facebook user uploaded photos of the canine, sharing that he had seen the animal sitting in the same spot every day, as if waiting for someone. They originally thought the dog had been abandoned, but then realized that he looked well-fed, so he asked around about him. It turned out that the dog had indeed been spending most of his time around that intersection, but a woman had been coming around regularly to bring him food and water. The plot thickened…
Photo: Dog Thailand
One day, while photographing the dog everyone called Leo, the Facebook user met the woman who take care of him. She had come to drop off some food and he used the opportunity to learn more about him. The 45-year-old woman, named Saowalak, said that when she first found him in that very same spot, several years ago, Leo was all skin and bones and plagued by skin disease. She couldn't bare to leave him like that, so she took him home with her and nursed him back to health. However, one day, Saowalak came home to find that Leo was gone. She looked for him and found him in the same place she first saw him, and assumed that he was waiting there for his owners, and didn't try to take him away. She just came and brought him food and water every few days.
After learning that the dog had spent the last few years in the same spot where his masters had allegedly abandoned him, the Facebook user decided to share the story on social media, documenting it with photos of the canine and the kind-hearted woman who looked after him. The post soon went viral and the photos of Leo got shared hundreds of times on Facebook alone. And it was through social media that the photos reached the eyes of Leo's former old owner.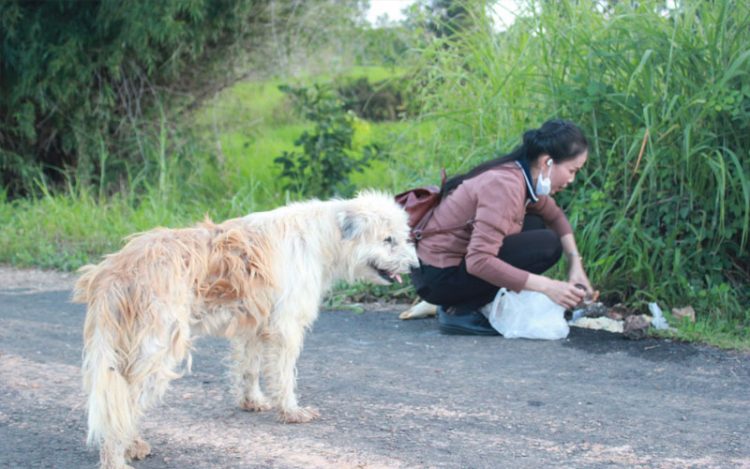 Photo: Dog Thailand
Nang Noi Sittisarn, a 64-year-old woman from Thailand's Roi Et Province, almost had a heart-attack when her daughter showed her a photo of a pooch that looked a lot like BonBon, the beloved dog she had lost during a car trip. On February 16, 2015, she and her husband took BonBon and drove to see her daughter in Khon Kaen, but on their way back, they somehow lost the dog. He was in the back of the car with the window open and Auntie Noi suspects that he must have seen something and jumped out of the car while they were waiting at a stoplight. She and her husband only realized he was gone when they stopped at a gas station.
The woman and her husband drove back the way they came to look for BonBon, but he was nowhere to be found. She recently told Thai reporters that they looked for him for a whole week, before giving up, thinking that he had been run over or otherwise killed. But when she saw a photo of Leo on September 6th, she immediately knew it was her BonBon. And when she learned that he had been waiting for her in the same spot for the last four years, her heart melted.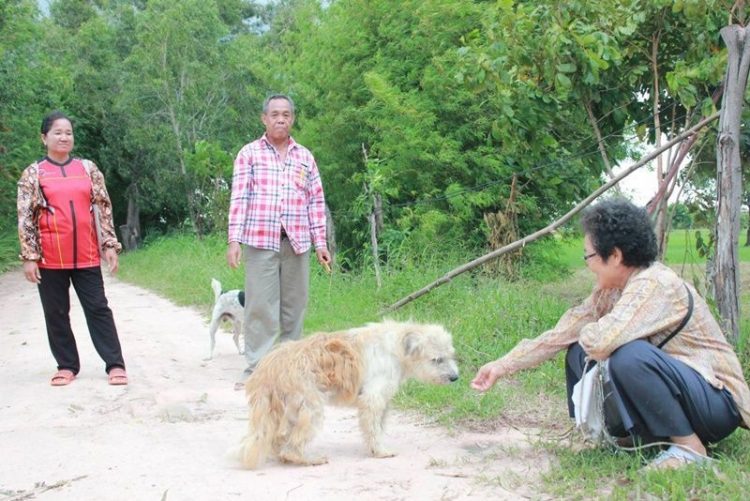 Photo: Dog Thailand
As soon as she saw the photo and heard the story, Auntie Noi told her daughter to drive her to where the dog was waiting. When she got there and called his name, "BonBon", the poor canine started wiggling his tail and came to her, but when she tried to take him home with her, he was reluctant to follow. She then understood that her BonBon had become attached to Saowalak, the woman who had nursed him back to health a few years back and had taken care of him ever since. She didn't want to force the dog to come with her so she agreed to leave him with her new master. However, she and her daughter will come to visit him regularly and bring him whatever he needs.
The story of Leo/BonBon melted the hearts of millions in Thailand and recently transcended national borders, going viral in other East-Asian countries.
Source: Dog Thailand via Naewna