A lonely and confused pit bull that had been waiting near a pile of garbage in the street for a whole month, after his owners moved away and left him behind, was recently rescued by a kindhearted animal lover.
Photos of Boo, a beautiful black and white pit bull, sitting on top of an old mattress and old furniture abandoned in the street, first started circulating on social media last week, after a neighbor in Mount Clemens, Michigan, posted them online. The man had watched Boo's family pack up their belongings and driving away, leaving the dog next to a bunch of other things they didn't want anymore. He had been feeding him for over a week, and had contacted every dog rescue in the area, but no one was willing to help the poor animal.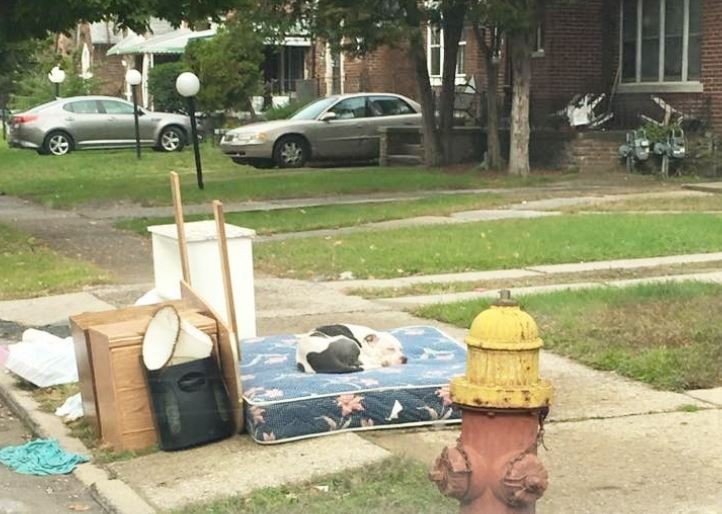 Photo: Detroit Youth and Dog Rescue
That's when Mike Diesel, founder of the Detroit Youth and Dog Rescue, decided it was up to him to help Boo. Diesel had first seen a photo of the loyal dog on a Facebook page, where it had garnered over 20,000 likes, and after hearing of his plight, he got into his car, drove to Mount Clemens and started earning Boo's trust. The neighbor who had posted the photos mentioned that the dog's owner had come back to pick up some more of their things, but didn't take Boo with them, so Diesel knew he had truly been abandoned.
"As far as building up the trust that started Sunday the 16th at 2:30 p.m. when I arrived and I stayed that night until 1 a.m. talking and getting acquainted with Boo and feeding him different food items," Mike told Inside Edition.
He came back the next day with two sausage McMuffins and two hash browns to share with the abandoned pit bull, but ended up giving them all to the dog. "It took another 4-5 hours that day before I ended up getting a leash around his neck and then we just sat on the ground and talked for 45 minutes before I had enough trust for him to allow me to pick him up and we went directly to the vet," he said.
Unfortunately, Boo tested positive for heart worms, so he is still in the hospital receiving treatments, but Mike Diesel has already started looking for people willing to adopt him. If that's you, or if you just want to make a small donation for his medical treatment, you can contact [email protected]mail.com.