Katya, a 36-year-old brown bear, is the only prisoner at the UK-161/2 penal colony in Kostanay, Kazakhstan, to be serving a life sentence. Ironically, even killers imprisoned here have sentences of no longer than 25 years.
So what could a bear do to end up in prison? Well, Ekaterina, or Katya as most of the 730 inmates at UK-161/2 call her, was put behind bars in 2004, after injuring two humans. Like a lot of her fellow inmates, the brown bear had a troubled life. Katya was abandoned by circus performers visiting Kostanay when she was still just a cub, and then locked in a cage near a popular camping site, as a tourist attraction. It was at the Belaya Yurta campsite that she committed the "crimes" that landed her in the strict regime prison, 15 years ago.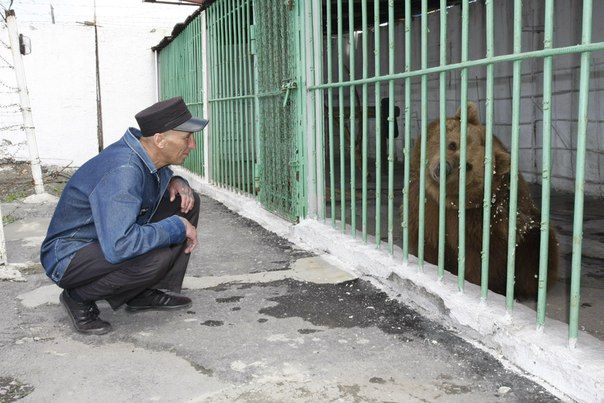 Photo: KST News
In 2004, an 11-year-old boy who was staying at the campsite for a kickboxing tournament got too close to Katya's cage trying to feed her, and she grabbed his leg. He reportedly suffered "serious injuries" and "traumatic shock".
"Everything happened suddenly… I threw food to him, and he, through the cage, grabbed my leg. I don't remember anything else from that moment," they boy told Kazakh media at the time of the incident.
That same year, Katya mauled another person, a certain Viktor O., 28, who was allegedly so drunk that he tried to shake hands with the bear through the bars of its cage, despite all the signs warning visitors to keep their distance. The man was also severely injured, but survived the ordeal. Still, with two incidents in a relatively short period of time, authorities decided that Katya had to go, and since no zoos or animal shelters were willing to take her in, she was put in prison with over 700 human inmates.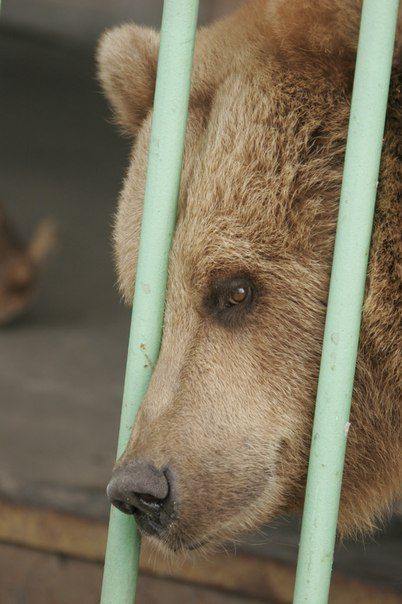 Photo: KST News
Having spent the last 15 years of her life at UK-161/2, Katya the bear has become the symbol of the penal colony, and even had a statue erected in her honor. She is very popular with the inmates there, most of whom bring her whatever treats they can get their hands on, like apples, sweets and cookies. They love talking to her and say that she always puts a smile on their face when they're having a bad day. On open days, the families of human inmates are also allowed to see Katya.
Katya had a special enclosure built specifically for her. Her lair takes up one section, and a pool of water the other. Her presence doesn't really cost the prison anything, as her diet consists mainly of leftovers from the human prisoners, plus she only eats seven months a year, spending the other five (November to April) hibernating in her lair.
"We have no plans to relocate Katya," Azamat Gabpasov, deputy chief for educational work at UK-161/2, told KST News, in 2016. "She has already become a symbol of our colony, we have gotten used to her and we will not give her to anyone."
via The Sun