The Japanese castle town of Himeji is home to the only known black cat café in the world, Nekobiyaka, where you can enjoy a refreshing drink in the company of about a dozen black felines.
There are hundreds of cat cafes all over Japan, but only one dedicated exclusively to black cats. Nekobiyaka opened in 2013 and has since become somewhat of a tourist attraction in Himeji. The owner, Ms. Yagi, came up with idea of a black cat café as a way of increasing the felines' chances of finding a forever home. As in most places around the world, the rate of adoption for black cats in Japan is significantly lower than for all other colors, and many of them end up euthanized. At Nekobiyaka, visitors get to interact with black felines and discover that the stigma and superstition surrounding them is simply ridiculous.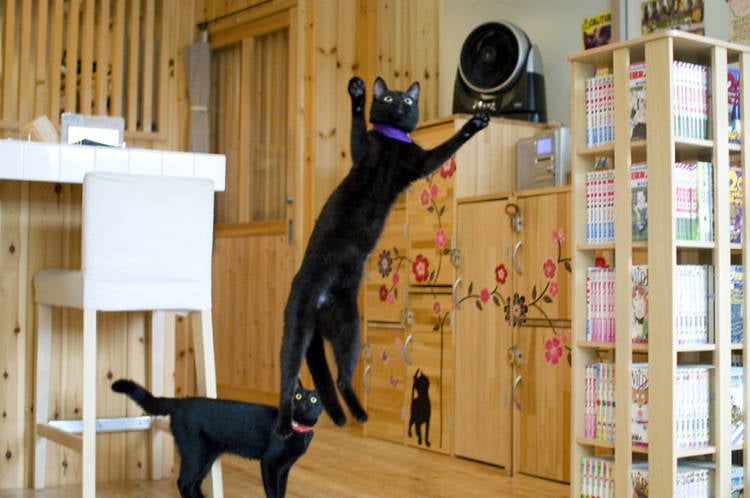 Photo: Animal Cafes
As of April 2020, 321 black cats "graduated" from Nekobiyaka, and every time one of them got adopted, Ms. Yagi brought another from the shelter to take its place. There are always at least 10 cats in the café, each wearing a differently-colored collar around its neck, to help visitors tell them apart. There is even a cat menu that lists all the different cats and their collar colors.
View this post on Instagram
Disinfecting your hands has become the norm because of Covid-19, but at Nekobiyaka it's always been mandatory. Visitors must also take off their shoes before entering the café and interacting with the black cats. The admission price is about 1,000 yen ($9.5) for the first hour, and 500 yen ($4.25) for every 30 minutes after that. Apart from the pleasant company, guests can enjoy a selection of drinks, as well as a variety of manga and magazine, most of them cat-themed.
Nekobiyaka was hard hit by the Covid-19 pandemic, as the number of visitors dropped dramatically. Things got so bad that Ms. Yagi considered closing the café, but that meant abandoning the black cats she had fought so hard for. In desperation, she appealed for help online, and was overwhelmed by the positive response. By the end of last month, Nekobiyaka had received over 1.2 million yen ($11,000) in donations, and some people are still donating.
Visiting the world's only black café may not be the easiest thing in the world right now, but it's good to know that thanks to Ms. Yagi's dedication and the generosity of cat lovers around Japan Nekobiyaka will most likely still be around when we finally get over Covid-19.