Naveen, a 38-year-old a Sabarimala pilgrim claims he has found a friend for life in Malu, a stray dog who accompanied him on a 600-km walk from the Mookambika temple in Kollur,to the Sabarimala shrine in Pathanamthitta, India. Apart from keeping him company, the dog also protected his belongings and even woke him up when he overslept.
It was on the second day of his pilgrimage that Naveen met Malu. He had become worried about the stray dogs that would approach him, especially in the morning hours, shooing them away so they wouldn't attempt to attack them, but he quickly realized that Malu was different. "It was after nearly 80 kilometers or so, that I noticed her. She walked towards me from the opposite direction and stopped when she reached right in front of me, the young Pilgrim recalls. "I did try shooing her off many times, but she would just not go."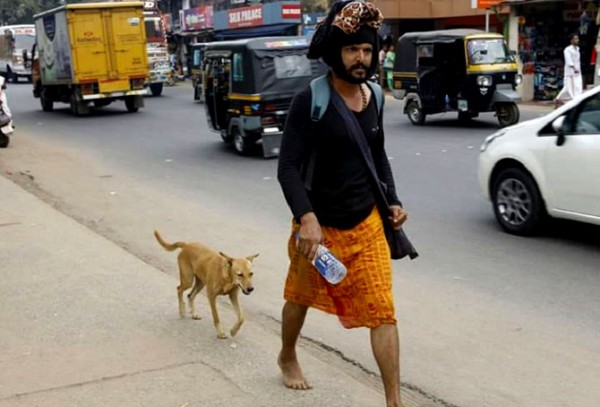 Photo: Naveen
At first, Malu would walk about 20 meters in front of her new friend, constantly looking back to see if he was still there. "She would regularly stop and look back at me, probably to make sure I was still following her. After a few days, she began to walk behind me, constantly sniffing at my feet. I let her stay," Naveen told The News Minute. "After we crossed Kozhikode, I was positive that she would not leave my side. She is a very persistent and clever dog. She would patiently wait for me when I went off to have food or take a bath. She would safely guard my thirumudikettu (bag of articles for worship) and sleep beside me at night."
On one occasion, Malu served as Naveen's alarm clock. He would walk about 50 kilometers a day, starting at 3 in the morning, until he could find a temple that would shelter him for the night. One day, his phone didn't ring on time and it was up to Malu to wake him up. "My phone's display had stopped working and I had overslept that morning. She tugged at my mundu, and repeatedly barked at me so that I wake up."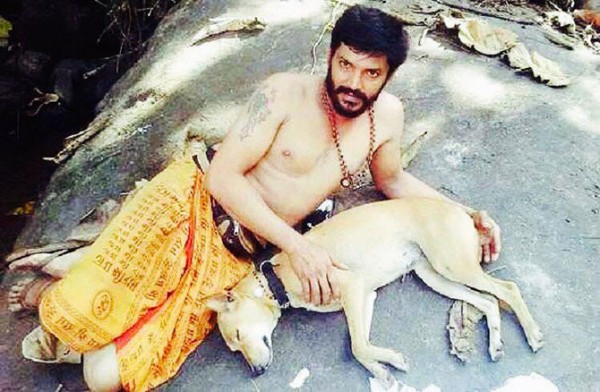 Photo: Naveen
On one occasion, Naveen thought he had lost Malu for a few hours, but it turned out that she had just gone ahead without him. She was waiting near the steps that lead to the shrine in Pamba. For the next one-and-a-half days, Malu waited there for my return," the Indian pilgrim said. "A few of the devotees who had accompanied me from Kozhikode called me on my phone to tell me that Malu was standing near the steps, sniffing at every man who passed by. She jumped on me the moment she spotted me in the crowd."
It took Naveen a total of 17 days to complete his epic journey, and Malu was by his side almost every step of the way. When it was time to go back to his home city of Kozhikode, in the Indian state of Kerala, the man knew he couldn't leave his four-legged friend behind. So he appealed to a special officer of the KSRTC to let him take Malu on the bus. "The special officer was glad to hear our story and readily agreed to let her on the bus. I bought a ticket for Rs 460 for Malu and she fell asleep the moment we boarded. She did not wake up until we reached home late in the night," he recalls.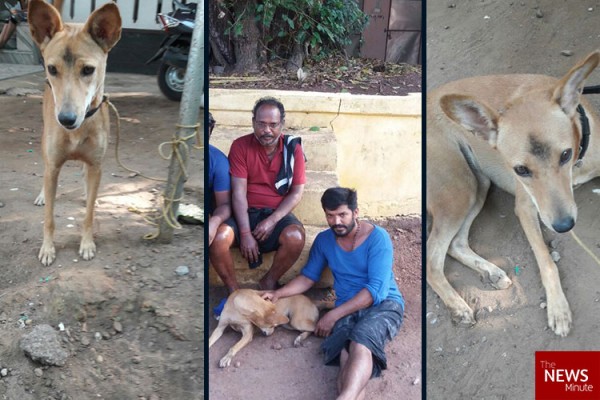 Photo: The News Minute
Now Malu has found a forever home with Naveen, and proudly wears a brown-beaded necklace around her neck to remind herself and those around her of their incredible journey.