It's rare for any dog to reach 100 kilograms, let alone a stray one, but Krugets, a stray dog living in the Russian city of Nizhny Novgorod, has become so fat that he can barely get up.
The Great Dane, the world's largest dog breed, weighs between 300 (136 kg) and 400 pounds (181 kg), but for a midsize stray dog to weigh just under 220 pounds (100 kg) is somewhat of an oddity. Volunteers in Nizhny Novgorod, Russia, recently found a stray dog so fat that he howled in pain every night, and barely managed to get up on all fours because of the unbearable joint pain. The dog had to be placed on a large scale by a number of people, and his weight reportedly stunned everyone. Krugets weighed a whopping 99.9 kilograms (220 lbs) and no one could understand how a stray could become so heavy.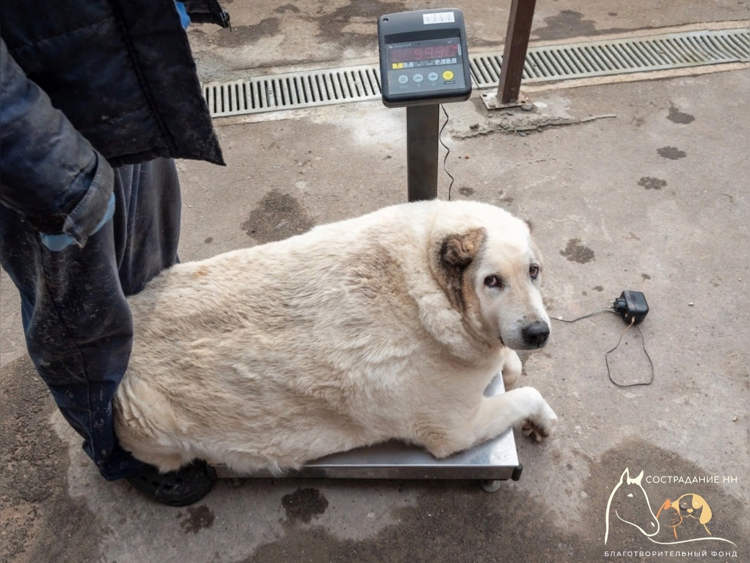 "At the moment, the dog has already been examined by a nutritionist, we took blood tests, but many more tests will be required to exclude endocrine pathologies," one of the volunteers who rescued Krugets said, adding that a possible explanation for the dog's extreme obesity could be the fact that he hangs around a busy market where people often throw dogs food scraps.
"It is almost impossible to conduct a full examination of him," a VK post by the volunteers reads. "An x-ray is required, but in order to carry it out the dog must lose at least 50 kg, because the rays simply will not penetrate the joints."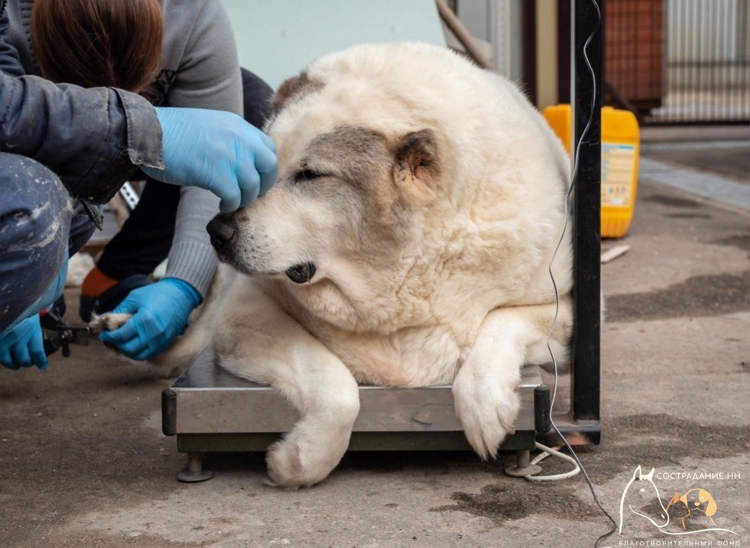 Even keeping Krugets in the veterinary hospital is an issue, because the facility simply doesn't have big enough cages to fit his large frame. Funding all the tests, the necessary diet, and all the pain medication is putting a heavy strain on the volunteers' budget, but they know they can't abandon Krugets because he most certainly wouldn't make it through the winter in his current state.
LIFE reports that Krugets still needs painkillers every day, and although he has started to lose weight and can get up on his own, he still cannot move and needs to be pushed around on a cart. He is very affectionate, loves being petted, and has shown no sign of aggression towards his caretakers.
Krugets still has a long way to go on his way to recovery, but the response from the public has been impressive, with many animal lovers donating to support the volunteers' efforts. The best-case scenario is that he gets adopted by a loving family. After all, he is only 5 years old and has lots of love to offer.