The Man That Rescues Dogs, an animal shelter in Chonburi, Thailand, cares for over a thousand stray dogs, including a few paralyzed animals that get to run with the pack again, thanks to the care and attention of the staff.
Michael J. Baines is the man behind The Man That Rescues Dogs. The Swedish national moved to Chonburi in 2002 to open his own restaurant, but quickly noticed the large number of stray dogs roaming through the city, many of which could barely survive on the scraps they found every day. In 2011, Baines became attached to one special stray that started coming to his restaurant every day, and soon noticed that his "patron" wasn't the only one in need of help. Michael started caring for a handful of strays, then for a few dozen, and before he knew it, he was providing food for almost a hundred canines. In 2017, The Man That Rescues Dogs animal shelter was founded, and in the four years since, the staff there not only rescued over 1,000 dogs, but gave a few paralyzed ones their mobility back.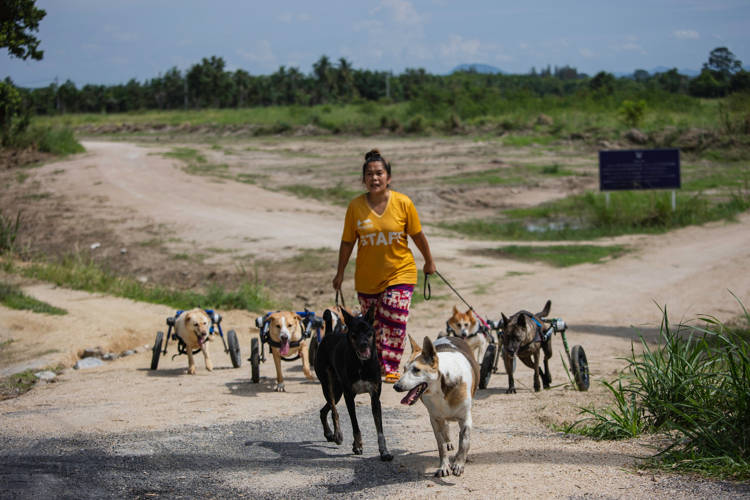 Photo: The Man That Rescues Dogs/Facebook
There's nothing quite like the joy on a dog's face as it runs with a pack, which is why The Man That Rescues Dogs decided that simply rescuing strays and providing food for them wasn't enough. Michael J. Baines used to take sick dogs to veterinarians in Chonburi himself, but there was little they could do for paralyzed animals that had been hit by cars or physically abused by humans. In 2019, through his foundation, he set up a clinic with two on-site veterinarians to provide care for his shelter dogs and provide services free of charge care for other pets in the area.
With donations from animals lovers both in Thailand and abroad, The Man That Rescues Dogs not only managed to increase the number of dogs it could take in and treat, but also managed to help almost thirty paralyzed canines run again.
"Without a doubt, it's giving the sick, neglected, abused street dogs of Thailand the second chance that they deserve," Baines told Bored Panda. "When you see a paralyzed dog in their wheelchair for the first time, running free and smiling, that's right up there as one of the best parts of the process."
"It's almost like they have no idea that they have a disability and once you put them in the wheelchair for the first time, it's like there is no curve of learning," Christopher Chidichimo, a member of the shelter staff, recently told Reuters.
According to The Man That Rescues Dogs website, caring for a disabled dog is a lot simpler than a lot of people imagine. All you need to do is get it into the wheelchair, which takes about 30 seconds, and help them urinate by gently applying pressure on their bladder five times a day. But to the dog, it makes all the difference in the world.
The Man That Rescues Dogs currently cares for 27 paralyzed dogs, and the shelter hopes that their success stories will inspire more animal lovers to adopt disabled canines and offer them a better life.