A Pattaya veterinarian recently shared the cautionary case of an American bulldog that swallowed no less than 38 rubber ducks, 32 of which had to be surgically removed.
When Nong Aom, a young woman from Pattaya, in Thailand, bought a box of 50 yellow rubber duckies as decorations for a swimming pool, she had no idea most of them would end up in the stomach of her two-year-old American bulldog, Davel. The woman noticed something was wrong when Davel threw up a chewed up rubber toy in front of her, and went into panic mode when he proceeded to regurgitate five other half-eaten toys. When she went to check the box of rubber duckies she had bought, Aom noticed there were only 12 of them left. Assuming there much be more in Davel's stomach, she rushed her pooch to a nearby vet clinic.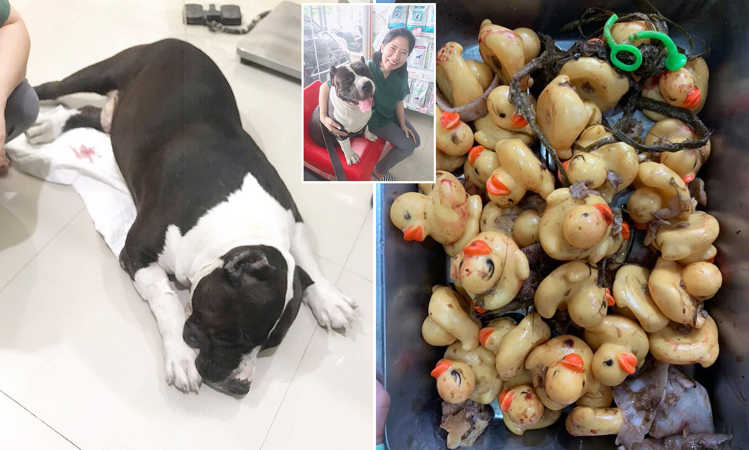 "Normally my dog will not eat everything. He knows what's edible and what's not. But this time he swallowed 38 of the ducks," Nong Aom said. "There were 12 left and he would have ate the rest if he didn't start to feel sick. It's very lucky I found him and I live so close to the vets or he might not have survived."
After doing an X-Ray of Davel's stomach, the veterinarian was shocked to find that it was full of rubber ducks, and got him ready for emergency surgery. The operation lasted over an hour and footage recorded by clinic staff shows doctors plucking yellow duckies one-by-one from the large dog's stomach. In all, 32 yellow duckies were extracted, along with two pieces of green rubber and some undigested cow skin.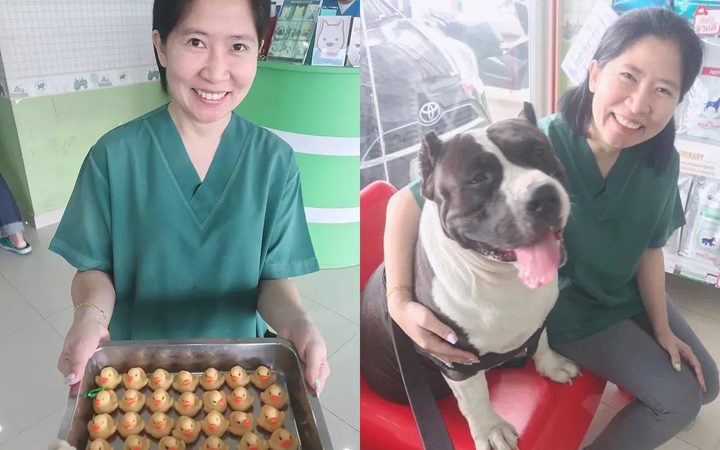 "It was not the first time I have had to perform surgery to remove toy ducks a from dog's stomach. But this is the highest number of rubber ducks I have ever removed," veterinarian Muy wrote in a Facebook post. "The owner of Davel phoned me yesterday, saying she wanted her pet X-rayed to see how many more toy ducks were in his stomach after Davel vomited up five of them. The X-ray showed his stomach was so full of toy ducks I could not tell exactly how many."
Nong Aom suspects that Davel raided the box of rubber duckies during the night, but she only noticed it the following morning, when he got sick.
Luckily, Davel recovered very well from the surgery, and went straight to his master as soon as the anesthetic wore off. Both Nong Anom and the vets who operated on him wanted to share the case as a cautionary tale for dog owners thinking of buying rubber duckies as toys or their pets.
"Please share this story. I don't want to see other dogs hurting like Davel," Muy wrote.