Toad, a five-year-old grey pitbull mix, suffers from a very rare deformity – she has a second mouth, complete with teeth and salivating glands, growing on the side of her head where her right year should be.
Toad arrived at the Oklahoma City Animal Welfare shelter two years ago, as a stray. The staff there realized almost immediately that there was something different about her, but it wasn't until they sedated her and performed a thorough checkup of her right ear that they realized that wasn't actually a normal ear, but a second mouth, with fully developed teeth and saliva coming out of it. It doesn't function as a normal ear, because it doesn't have a jaw to allow it to open and close, but Toad can't hear with it either.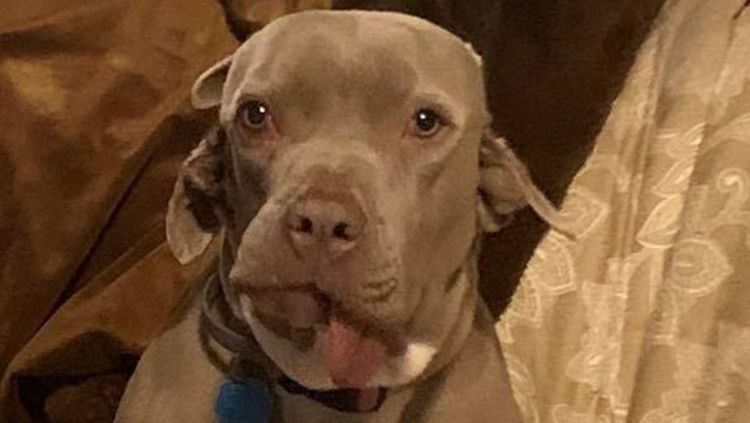 Photo: Mutt Misfits Animal Rescue Society
"Upon her initial intake exam at the shelter, our veterinarian originally thought she had extra ears," Heather Hernandez, Toad's owner, said. "But once we sedated her for her spay surgery, that's when we discovered that she actually only has one ear and two mouths!"
"We originally thought it had two teeth but we did a dental cleaning on the ear a few weeks ago and discovered it has several. A few of the ear teeth had cracked, which caused some discomfort, but once we removed the broken teeth she was good as new," added Hernandez, who is also the founder of Mutt Misfits Animal Rescue Society, the animal charity that took Toad in.
Only two teeth are clearly visible in Toad's second mouth, but her caretakers say that there are more of them deeper inside, some of which had to be removed because they had cracked and were causing the animal pain. However, the two large teeth cannot be removed, because they are attached to her skull.
Toad's "ear" has to be cleaned every night, otherwise the saliva will stick to her fur. She doesn't hear or smell very well either, because everything in her head is "misaligned", but otherwise she's a normal dog.
Toad first made local news headlines in Oklahoma two years ago, after being brought in to the Oklahoma City Animal Welfare shelter as a stray. Back then, people found her second mouth funny, leaving comments about how her weirdly-located teeth needed to be brushed, or asking if she could bark with her ear-mouth. Luckily, Heather Hernandez managed to see past these mean jokes and she discovered a sweet loving dog.
"She's special, she's one in a million," Hernandez said. "Toad came into my life at the exact time that I needed her, and she has brought me infinite joy and happiness."
A vet told Hernandez that Toad's bizarre deformity most likely occurred when she absorbed her twin in her mother's uterus.