Honey, dubbed by activists and animal lovers 'the world's loneliest dolphin', died last month, after almost two years spent by herself in a small pool at an abandoned aquarium in Japan.
We originally featured Honey's tragic story back in October 2018, when footage shot by Japanese animal rights activists showing a single bottlenose dolphin floating in what appeared like an abandoned pool went viral online. It turned out that the video had been shot with a drone at the Inubosaki Marine Park Aquarium in Choshi, Chiba Prefecture, months after it had closed down. The dolphin, named Honey, and some penguins had remained behind and were being fed by an employee every few days. Still, the dolphin suffered from skin burns under the hot summer sun, as well as stress and loneliness. The story made international headlines at the time, but that did nothing to change Honey's fate. After almost two years spent in that pool alone, she died last month…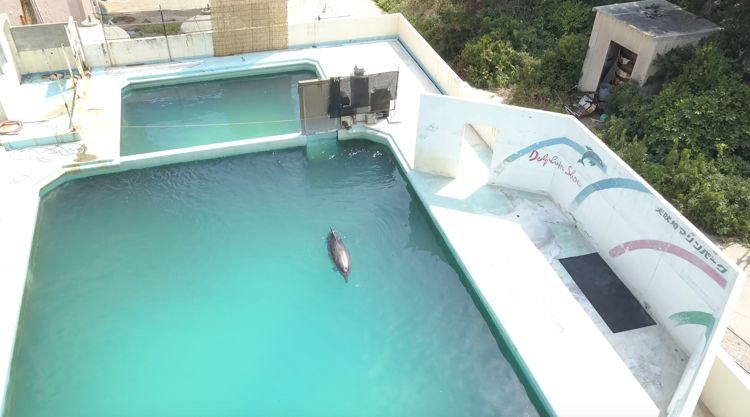 Photo: Put An End to Animal Cruelty and Exploitation (PEACE)
"In the wild, dolphins swim vast distances with their families, playing and exploring new territory together. But for Honey, life is spent floating listlessly all day long," PETA wrote in 2018. "She is kept all alone and is said to be engaging in repetitive, compulsive actions known as stereotypic behavior – a sign of the severe distress caused by captivity."
Honey's tragic death was reported at the beginning of April by Dolphin Project, the same organization that had made her plight public in 2018. They were the ones who posted the video of the lonely bottlenose dolphin floating in her poor at the abandoned aquarium, and also the ones who tried their hardest to rescue her.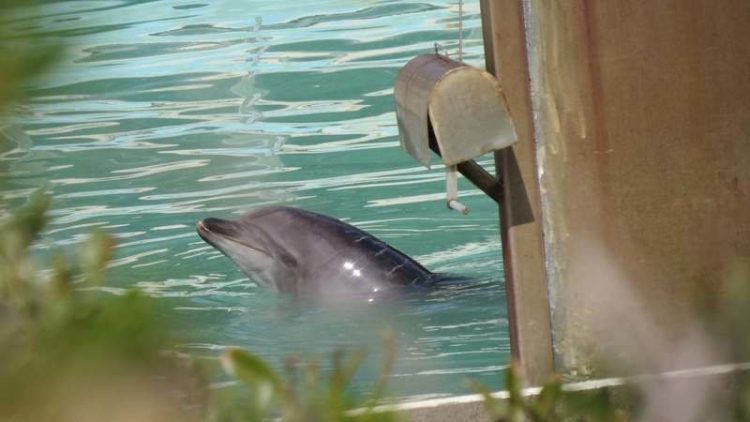 Photo: Put An End to Animal Cruelty and Exploitation (PEACE)
In November of 2018, Dolphin Project learned that the closed Inubosaki Marine Park Aquarium was in debt and in desperate need of a buyer. In 2019, they learned that the aquarium had been sold along with Honey and the other animals, which was confirmed by the Kaisou Health Center, which managed the health of the animals at the marine park.
According to a recent Dolphin Project post, the organization had desperately tried to acquire Honey so that she could retire in peace and dignity. In February of 202, they once again contacted animal rights colleagues in Japan to broker a deal, but conversations ended in March, when it became apparent that the lonely dolphin was having serious heath problems and would likely not survive. She died in her pool on March 29…
"Honey's plight attracted worldwide attention, and sparked a huge movement from within Japan. While tragically, she wasn't able to escape the man-made enclosure she suffered in, Honey will remain the face of dolphin captivity for many years to come," Dolphin Project wrote.
On the other hand, if Honey's death wasn't tragic enough, even more so is the fact that even after getting international attention, she could not escape her tiny watery prison and spent the last year and a half of her life miserable. What about all the other captive marine animals whose horror stories never make the news?