Cow cuddling has been around in Europe for a while, but now a farm in upstate New York is giving Americans the chance to unwind by getting up close and personal with peaceful bovines for just $75 and hour.
Mountain House Farm, a beautiful 33-acre retreat in New York, has been offering wellness sessions with horses to guests for the past nine years, but recently added cow cuddling on the menu as well. Suzanne Vullers, a Netherlands native who runs the farm with her husband, brought two cows back with her from a visit to her home country, after learning about the hearing about the health benefits of cuddling with cows. The practice has really taken off as a form of stress relief therapy in European countries like Switzerland and the Netherlands, and Vullers was surprised that it was relatively unknown in the US. So she brought Bonnie and Bella to join their friendly horses and help visitors relax as part of what Mountain House Farm calls the "Horse & Cow experience".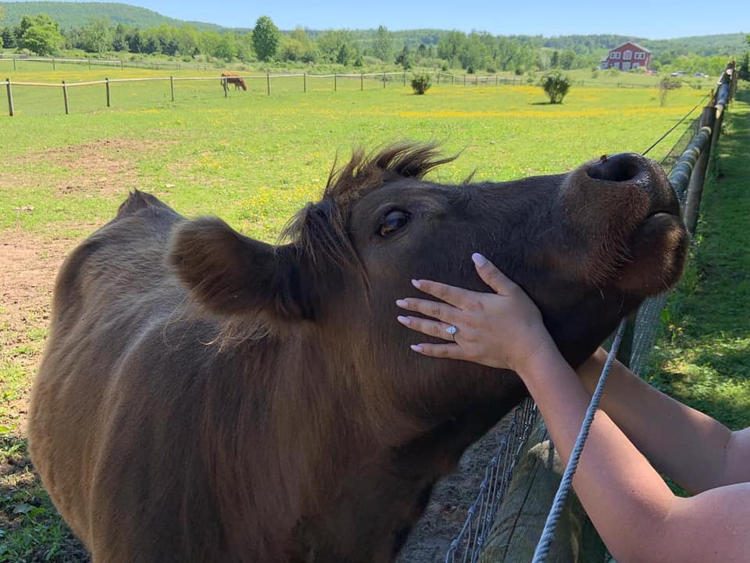 Photo: Mountain House Farm/Facebook
"To be honest, we did not know that it was so unknown in the US," Vullers told CNN. "A lot of people are familiar with therapy dogs or cats … people don't associate this with larger animals, like cows."
But it turns out the cows' slightly slower heart rate and their generally peaceful demeanor really has a way of relaxing people around them. Suzanne claims that just feeling their slower heart rate as you cuddle with them makes you slow down as well, and because everything is very quiet, it gives you a wonderful opportunity to connect with them.
Mountain House Farm offers just one or two cow cuddling sessions per day, which they usually limit to around two people. The experience is currently priced at $75 per hour, but allegedly helps people "stay healthy, mentally and physically". The owners emphasize that their farm is not a petting zoo and that visitors wanting to take part in the Horse & Cow experience have to consider both themselves and the animals. So every cuddling session is scheduled ahead of time in a way that does not interfere with the cows' natural rhythm.
"We're not a petting zoo. It's not all about you. It's about us and them," Vullers said. "For us, it's very important that the animals have choices and it's as much their choice to connect with humans as it is for us."